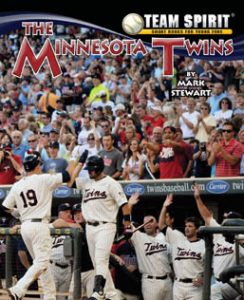 What's new with the Minnesota Twins? That's what this page is all about.
The Team Spirit Extra Innings website begins where the Team Spirit books end.
That's because baseball never stands still … And I can never squeeze everything I want into 48 pages!
Take a look at some of the Twins collectibles I have in my home.
Enjoy this site, check back whenever you like, and contact me with any questions or comments.
2023 Season
Season Preview:  Were it not for pitching problems in 2022, the Twins could have easily won the AL Central. In 2023, newcomer Pablo Lopez joins Kenta Maeda, Sonny Gray, and Tyler Mahle to give Minnesota a quality starting rotation. The trade for Lopez cost the team batting champion Luis Arreaz, but the offense is good enough to survive that loss thanks to the powerful foursome of Carlos Correia, Max Kepler, Joey Gallo, and Byron Buxton. New catcher Christian Vasquez could also be a difference-maker at bat and behind the plate.
2022 Season
Season Recap: Minnesota fans were saving up for playoff tickets in May and June, but the second half of the season did no go well for the Twins. Injuries prevented Byron Buxton from having the year everyone was hoping for, and Carlos Correa's powerful bat was not enough to keep the club in the playoff race. Among the few bright spots for the Twins were good years from outfielder Nick Gordon and pitchers Joe Ryan and Jhoan Duran. The big news in Minnesota, however, was Luis Arreaz, who won the batting championship with a .316 average.
July 24, 2022: Two of the team's greatest players, Tony Oliva and Jim Kaat, entered the Hall of Fame together. Kaat retired with 283 victories and won 16 Gold Gloves for his fielding. Oliva won three batting championships and was an All-Star 8 times.
Season Preview: The arrival of superstar shortstop Carlos Correa has Minnesota fans excited about 2022. Correa and outfielder Byron Buxton give the Twins an awesome one-two punch, especially if Buxton can stay off the injured list. Sonny Gray and Gary Sanchez are two important newcomers to the club, but just as important are several prospects—including infielder Jose Miranda—who figure to get a long look this season. Can the Twins take the AL Central? Much could depend on slugger Miguel Sano, one of the most exciting (and streakiest) players in baseball.
2021 Season
Season Recap: The Twins began the year as co-favorites to win the AL Central, only to watch the White Sox run away with the division in the first half. Minnesota needed big years from their veteran players and got them from Byron Buxton, Jorge Polanco, Nelson Cruz, and Jose Berrios. However, others did not come through as hoped and the team traded away Cruz, Berrios, and others for young talent over the summer. One of the bright spots was the play of infielder Luis Arraez, who took a big step toward stardom.
May 29, 2021: Josh Donaldson scored the two millionth run in big-league history in a game against the Royals.
Season Preview: The Twins have the most entertaining batting order in baseball. They send a home run hitter to the plate in almost every inning, including Nelson Cruz, Miguel Sano, Max Kepler, and Josh Donaldson. If their veteran pitchers stay off the injured list, the Twins could lock up another Central Division title.
2020 Season
Season Recap: The Twins won the AL Central with a 36–24 record, and had four of the league's best home run hitters: Miguel Sano, Eddie Rosario, Byron Buxton, and Nelson Cruz. Kenta Maeda, Randy Dobnak, and Jose Berrios led a fine pitching staff. But Minnesota's bad luck in the playoffs continued when they lost to the Astros 2 games to 0.
Season Preview: The Twins surprised the experts by winning 101 games in 2019. They won't win that many in a 60-game season, but 40 victories is not out of the question. Minnesota has depth and talent from one end of its roster to the other. Power hitters Miguel Sano, Nelson Cruz, Eddie Rosario, and Max Kepler lead the offense, while the pitching has improved with some new young arms.
2019 Season
Season Recap: No one in history hit more home runs than the Twin in 2019. They sent 307 balls into orbit and won 97 games to capture the AL East. Eight different players hit 20 or more homers, led by Nelson Cruz with 41, Max Kepler with 36, and Miguel Sano with 34 in just 105 games. All-Star shortstop Jorge Polanco was Minnesota's best all-around player, with 40 doubles, 22 homers, and 107 runs scored. The Twins' pitching staff featured five starters with double-digit wins, and closer Taylor Rogers saved 30 games. Unfortunately, Minnesota's losing streak in the playoffs continued as they were swept in three games by the Yankees in the Division Series.
June 15, 2019: The Twins retired Joe Mauer's number 7.
May 23, 2019: The Twins hit 8 home runs in a game for the second time in the 2019 season.
Season Preview: The retirement of Joe Mauer means the Twins will have new leaders on the field and in the clubhouse. Who will they be? The fans hope that three key players—Miguel Sano, Max Kepler, and Byron Buxton—all take a step toward stardom in 2019 and turn the Twins into contenders again. With exciting pitchers like Jose Berrios and Fernando Romero on the roster, Minnesota could make a run at first place in the AL Central.
2018 Season
Season Recap: The Twins could not repeat their fine performance of 2017 and it cost manager Paul Molitor his job. Several key players took steps backwards and no regular came close to batting .300. Veteran Joe Mauer was good in the clutch, but often came to bat with the bases empty. The team's best hitter in 2018, Eduardo Escobar, was traded to Arizona. One of the few bright spots for Minnesota was the pitching of Jose Berrios, who is an emerging star. The Twins finished second in the AL Central, but won six fewer games than they lost.

April 12, 2018: Joe Mauer collected his 2,000th career hit in a game against the White Sox.
Season Preview: After making it to the playoffs in 2018, the Twins have set their sights on challenging for the pennant. They added a half-dozen solid veterans over the winter to go with their young everyday lineup, which includes Miguel Sano, Byron Buxton, Brian Dozier, Max Kepler, and Eddie Rosario. Joe Mauer and Logan Morrison will provide experience and leadership.
2017 Season
Season Recap: The Twin were the most surprising team in baseball. While many experts predicted they might lose 100 games, the team won 85 and earned a spot in the Wild Card Game. Joe Mauer led the team with a .305 average, while Brian Dozier was tops with 34 home runs and 93 RBIs. Veteran Ervin Santana won 16 games but could not beat the Yankees in their one-game Wild Card match-up.
September 12, 2017: The Twins hit home runs in each of the first seven innings of their game against the Padres. No team had ever done that before.
July 10, 2017: Miguel Sano reached the finals of the Home Run Derby, falling to Aaron Judge, 11–10. A day later, Sano played in his first All-Star Game.
2016 Season
November 1, 2016: Minnesota fans watched their club lose 103 games—more than anyone else in baseball. Among the few bright spots were great years by Brian Dozier, with 42 homers, and an All-Star season from super-sub Eduardo Nunez. The Twins traded Nunez at the end of July for pitching prospect Adelberto Mejia.
2015 Season
October 6, 2015: The Twins fought for a Wild Card spot until the final week of the season, but finished three wins short. Eight players reached double-figures in home runs, led by Brian Dozier with 28. At 39, Torii Hunter gave the team great leadership.
April 5, 2015: The Twins don't have any hitting stars, but Joe Mauer and his teammates get the job done year in and year out. Can the team's pitching match the hitting? Ervin Santana is the newest addition to a so-so starting staff. If not, Minnesota fans can still look forward to young stars Miguel Sano and Byron Buxton playing their way into the starting lineup this season.
2014 Season
November 1, 2014: After making the playoffs 6 times between 2002 and 2010, the Twins suffered four losing seasons in a row, including 2014. Manager Ron Gardenhire was fired after the season, but Minnesota fans pointed their fingers at other problems on the team—including a poor performance from team leader Joe Mauer. Bright spots for the Twin included a fine season from pitcher Phil Hughes and the development of young slugger Oswaldo Arcia.
September 23, 2014: Phil Hughes set a new record for the best strikeout-to-walk ratio in a season. He fanned 186 batters and walked only 16 for a 11.63:1 mark.
March 31, 2014: The pitching looks pretty good for the Twins in 2014, but the hitting has a way to go. Joe Mauer can't win games by himself—at least not every game. Some good prospects are on the way, but in the meantime Minnesota fans will have to settle for watching Yosmil Pinto and Oswaldo Arcia grow into solid everyday players.
2013 Season
October 1, 2013: A 10-game losing streak in May doomed the Twins to a disappointing season. The offense was only so-so, while the pitching was something less than so-so. Joe Mauer turned in his seventh .300 season in 10 years, while Glen Perkins became one if the AL's top closers, with 36 saves.
March 30, 2013: The Twins have good hitting as usual, but there are many question marks on its pitching staff in 2013. New pitchers Vance Worley, Mike Pelfrey, and Kevin Correia may make the difference between a fun season and an ugly one.
2012 Season
October 3, 2012: The Twins had good hitting and good pitching at times in 2012, but almost never at the same time. That led to a last-place finish in the AL Central. Newcomer Josh Willingham had the best year of his career, with 35 home runs and 110 RBIs. Joe Mauer led the AL with a .416 on-base percentage. And Ben Revere stole 40 bases. The good news is that the team has enough talent to turn things around in 2013.
April, 2012: The Twins always find hitters that other clubs have overlooked. In 2012, newcomers Josh Willingham, Ryan Doumit, and Jamey Carroll will join Joe Mauer and (a hopefully healthy) Justin Morneau in the lineup. All of these guys can swing the stick.
Clyde Milan — Outfielder
Born: 3/25/1887
Died: 3/3/1953
Played for Team: 1907 to 1922
Clyde Milan was nicknamed "Deerfoot" for his speed and agility. He was an expert at getting on base and led the AL in steals in 1912 and 1913.

Sam Rice — Outfielder
Born: 2/20/1890
Died: 10/13/1974
Played for Team: 1915 to 1933
Sam Rice's lightning-quick wrists enabled him to wait until the last possible moment before swinging at a pitch. The result was a .322 career average and 2,987 hits. In 1925, Rice had 227 hits and struck out only 10 times.

Goose Goslin — Outfielder
Born: 10/16/1900
Died: 5/15/1971
Played for Team: 1921 to 1930, 1933 & 1938
Goose Goslin was one of baseball's best power hitters. But he played in a large stadium, so he did not hit many homers. However, Goslin reached double-figures in doubles, triples, and home runs and knocked in 100-plus runs five years in a row.

Ossie Bluege — Third Baseman
Born: 10/24/1900
Died: 10/14/1985
Played for Team: 1922 to 1939
Ossie Bluege was a star for all three Washington pennant winners. He was a superb defensive player who could also handle the bat.

Buddy Myer — Second Baseman
Born: 3/16/1904
Died: 10/31/1974
Played for Team: 1925 to 1927 & 1929 to 1941
Buddy Myer played in the shadow of more famous AL second basemen during the 1930s, but few players were better at getting on base and coming around to score. Myer was the league's top hitter in 1935 and batted .303 for his career.

Joe Cronin — Shortstop
Born: 10/12/1906
Died: 9/7/1984
Played for Team: 1928 to 1934
Joe Cronin was the best shortstop in baseball during the 1930s. He regularly hit .300 and drove in 100 runs. Cronin was named player-manager of the Senators in 1933 and led them to a pennant. He was runner-up for the AL MVP that year.

Cecil Travis — Shortstop/Third Baseman
Born: 8/8/1913
Died: 12/16/2003
Played for Team: 1933 to 1941 & 1945 to 1947
Cecil Travis began his career with a bang when he rapped out five hits in his first big-league game. Travis was drafted in the prime of his career; when he returned from World War II, he was never the same player again. Some believe Travis might have reached 3,000 hits had his career not been uninterrupted.

George Case — Outfielder
Born: 11/11/1915
Died: 1/23/1989
Played for Team: 1937 to 1945 & 1947
George Case was one of the best all-around athletes in team history. He led the AL in stolen bases every year from 1939 to 1943, despite playing with a nagging back injury. The pain led Case to retire from baseball at the age of 31.

Mickey Vernon — First Baseman
Born: 4/22/1918
Died: 9/24/2008
Played for Team: 1939 to 1948 & 1950 to 1955
Mickey Vernon was one of the most popular men in baseball, both with fans and fellow players. He won two batting championships and was an excellent fielder. Vernon was an All-Star five times as a Senator.

Eddie Yost — Third Baseman
Born: 10/13/1926
Played for Team: 1944 to 1958
Eddie Yost was not a great hitter, so he made pitchers throw him perfect strikes before he would swing. The result was a ton of free trips to first base. Yost led the AL in walks four times from 1950 to 1956. When he retired he had 1,863 hits and 1,614 bases on balls. His nickname was the "Walking Man."

Camilo Pascual — Pitcher
Born: 1/20/1934
Played for Team: 1954 to 1966
Camilo Pascual was a star for the team in Washington and Minnesota. He used his hard-breaking curveball to win 20 games twice for the Twins and lead the AL in strikeouts each year from 1961 to 1963.

Roy Sievers — Outfielder
Born: 11/18/1926
Played for Team: 1955 to 1959
Roy Sievers was one of the great power hitters of the 1950s. He slugged 180 home runs for the Senators in five years and led the league with 42 homers and 114 RBIs in 1957.

Bob Allison — Outfielder
Born: 7/11/1934
Died: 4/9/1995
Played for Team: 1958 to 1970
Bob Allison hit a lot of home runs, but when the ball didn't clear the fence, no one ran the bases harder. He also hustled after batted balls in the outfield.

Jim Kaat — Pitcher
Born: 11/7/1938
Played for Team: 1959 to 1973
Jim Kaat could make the ball curve right or left, or drop sharply on its way to home plate. The result was a lot of weak grounders. Kaat fielded many of those hits himself and won 16 Gold Gloves over his career. His best season for the Twins was 1966, when he won 25 games.

Frank Viola — Pitcher
Born: 4/19/1960
Played for Team: 1982 to 1989
Few pitchers have ever had as many good pitches as Frank Viola. He could make the ball do most anything he wanted. In 1987, Viola led the Twins to their first championship by winning Game 7 of the World Series. A year later he went 24–7 and won the Cy Young Award.

Torii Hunter — Outfielder
Born: 7/18/1975
Played for Team: 1997 to 2007
No one was more fun to watch playing center field than Torii Hunter. He caught almost everything hit his way and regularly reached over the fence to steal home runs. Hunter won seven Gold Gloves in a row with the Twins.

Joe Nathan — Pitcher
Born: 11/22/1974
Played for Team: 2004 to 2011
When the Twins swapped catcher A.J. Pierzynski for Joe Nathan and Francisco Liriano after the 2003 season, it turned out to be one of their greatest trades. Liriano became one of their best starters, while Nathan took over the closer's role that spring. Nathan went on to save 261 games for the Twins and helped them reach the playoffs three times.

Miguel Sano — First Baseman
Born: 5/11/1993
First Season with Team: 2015
Miguel Sano was an All-Star in 2017 and finished as runner-up in the Home Run Derby that summer. When he gets in a groove, no one hits the ball harder or longer.
TWO-SPORT STAR
When Joe Mauer was in high school, he was named the top baseball and football player in the country. Mauer turned down offers to play quarterback in college for Miami, Florida State, Arizona, and Minnesota after he was drafted by the Twins.

WELCOME TO THE FAMILY
While playing for the Senators, Joe Cronin met and married the niece of team owner Clark Griffith. Family ties did not keep Griffith from trading Cronin to the Boston Red Sox before the 1935 season.

SEVEN-TERM PITCHER
After 15 years with the Senators and Twins, Jim Kaat went on to pitch 10 more season in the major leagues. He set a record by playing during the terms of seven presidents—Dwight Eisenhower, John Kennedy, Lyndon Johnson, Richard Nixon, Gerald Ford, Jimmy Carter, and Ronald Reagan.

BIG-INNING BOB
Whenever Bob Allison came to bat, Twins fans knew something special might happen. In 1963, he and Harmon Killebrew became the first teammates to hit grand slams in the same inning. One year later, he and three other Twins—Tony Oliva, Jimmie Hall, and Killebrew—hit back-to-back-to-back-to-back home runs.

HOME WARRIORS
The 1987 Twins had one of the worst road records in baseball—29–52—including losing their last five games in a row. Luckily, they were almost unbeatable at home. In the playoffs and World Series that season, the Twins won a grand total of one road game. But they did not lose once in Minnesota and finished the year as champions of baseball.

SEEING RED
In a 1967 game at Metropolitan Stadium, Harmon Killebrew blasted a 520-foot home run—the longest in Twins history. The seat it hit was painted red. After the stadium was torn down, the seat was put on display in the Mall of America, which was built on the site of the old ballpark. It is still there today.
Home Runs
1957 — Roy Sievers — 42*
1959 — Harmon Killebrew — 42*
1962 — Harmon Killebrew — 48
1963 — Harmon Killebrew — 45
1964 — Harmon Killebrew — 49
1967 — Harmon Killebrew — 44
1969 — Harmon Killebrew — 49

* Played for Washington Senators

Batting Average
1935 — Buddy Myer — .349*
1946 — Mickey Vernon — .353*
1953 — Mickey Vernon — .337*
1964 — Tony Oliva — .323
1965 — Tony Oliva — .321
1969 — Rod Carew — .332
1971 — Tony Oliva — .337
1972 — Rod Carew — .318
1973 — Rod Carew — .350
1974 — Rod Carew — .364
1975 — Rod Carew — .359
1977 — Rod Carew — .388
1978 — Rod Carew — .333
1989 — Kirby Puckett — .339
2006 — Joe Mauer — .347
2008 — Joe Mauer — .328
2009 — Joe Mauer — .365
2022 — Luis Arreaz — .316

* Played for Washington Senators

Runs Batted In
1924 — Goose Goslin — 129*
1957 — Roy Sievers — 114*
1962 — Harmon Killebrew — 126
1969 — Harmon Killebrew — 140
1971 — Harmon Kilebrew — 119
1977 — Larry Hisle — 119
1994 — Kirby Puckett — 112

* Played for Washington Senators

Stolen Bases
1906 — John Anderson — 39
1912 — Clyde Milan — 88
1913 — Clyde Milan — 75
1920 — Sam Rice — 63
1937 — Ben Chapman — 35*
1939 — George Case — 51
1940 — George Case — 35
1941 — George Case — 33
1942 — George Case — 44
1943 — George Case — 61

All of the above played for the Washington Senators; no Twin has led the league in stolen bases.

* Ben Chapman also played for the Boston Red Sox in 1937.

Wins
1913 — Walter Johnson — 36
1914 — Walter Johnson — 28
1915 — Walter Johnson — 27
1916 — Walter Johnson — 25
1918 — Walter Johnson — 23
1924 — Walter Johnson — 23*
1932 — General Crowder — 26*
1933 — General Crowder — 24*
1953 — Bob Porterfield — 23*
1965 — Jim Grant — 21
1966 — Jim Kaat — 25
1970 — Jim Perry — 24
1977 — Dave Goltz — 20
1988 — Frank Viola — 24
1991 — Scott Erickson — 20
2006 — Johan Santana — 19

* Played for Washington Senators

Strikeouts
1910 — Walter Johnson — 313*
1912 — Walter Johnson — 303*
1913 — Walter Johnson — 243*
1914 — Walter Johnson — 225*
1915 — Walter Johnson — 203*
1916 — Walter Johnson — 228*
1917 — Walter Johnson — 188*
1918 — Walter Johnson — 162*
1919 — Walter Johnson — 147*
1921 — Walter Johnson — 143*
1923 — Walter Johnson — 130*
1924 — Walter Johnson — 158*
1942 — Bobo Newsom — 113*
1961 — Camilo Pascual — 221
1962 — Camilo Pascual — 206
1963 — Camilo Pascual — 202
1985 — Bert Blyleven — 206**
2004 — Johan Santana — 265
2005 — Johan Santana — 238
2006 — Johan Santana — 245

* Played for Washington Senators
** Bert Blyleven also played for the Cleveland Indians in 1985.

Earned Run Average
1912 — Walter Johnson — 1.39*
1913 — Walter Johnson — 1.14*
1918 — Walter Johnson — 1.27*
1919 — Walter Johnson — 1.49*
1924 — Walter Johnson — 2.72*
1925 — Stan Coveleski — 2.84*
1928 — Garland Braxton — 2.51*
1988 — Allan Anderson — 2.45
2004 — Johan Santana — 2.61
2006 — Johan Santana — 2.77

* Played for Washington Senators
Twins In The World Series
| YEAR | OPPONENT | RESULT |
| --- | --- | --- |
| 1965 | Los Angeles Dodgers | Lost 4–3 |
| 1987 | St. Louis Cardinals | Won 4–3 |
| 1991 | Atlanta Braves | Won 4–3 |
Senators In The World Series
| YEAR | OPPONENT | RESULT |
| --- | --- | --- |
| 1924 | New York Giants | Won 4–3 |
| 1925 | Pittsburgh Pirates | Lost 4–3 |
| 1933 | New York Giants | Lost 4–1 |