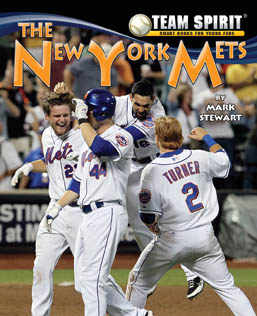 What's new with the New York Mets? That's what this page is all about.
The Team Spirit Extra Innings website begins where the Team Spirit books end.
That's because baseball never stands still … And I can never squeeze everything I want into 48 pages!
Take a look at some of the Mets collectibles I have in my home.
Enjoy this site, check back whenever you like, and contact me with any questions or comments.
2023 Season
Season Preview: Many picked the Mets to win the NL East until their star relief pitcher, Edwin Diaz, injured his knee celebrating a victory during the World Baseball Classic. The team should still make the playoffs and will have time to find an adequate replacement. Meanwhile, the signing of Justin Verlander gave fans a big boost. He reunites with old teammate Max Scherzer to give New York a Hall of Fame one-two pitching punch. The Mets also added Japanese hurler Kodai Senga, who brings his famous "ghost pitch" to Queens. The team's offense features Pete Alonso, Francisco Lindor, Jeff McNeil, Starling Marte, and Brandon Nimmo—and anxiously awaits the day prosects Francisco Alvarez, Brett Baty, and Mark Vientos break into the lineup.
2022 Season
Season Recap: The Mets put an excellent team on the field in 2022 and had a double-digit lead in the NL East at one point in the season. The Braves caught them on the final weekend, forcing New York to play the Wild Card series—which the Mets lost to the Padres. This defeat erased wonderful years by Edwin Diaz, Francisco Lindor, Brandon Nimmo, and Max Scherzer. Jeff McNeil won the NL batting crown and Pete Alonso led the league with 131 RBIs.
September 19, 2022: Max Scherzer beat the Milwaukee Brewers to win the 200th game of his career. He retired 18 batters in a row before coming out of the game after six innings.
August 13, 2022: Edwin Diaz became the 53rd player in history with 200 saves. At age 28, he is also one of the youngest.
August 7, 2022: Jacob DeGrom set a record against the Braves for the most strikeouts by a pitcher in his first 200 starts. DeGrom finished he game with 1,523 to break Yu Darvish's record o5 1,517.
July 7, 2022: The Mets honored first baseman Keith Hernandez by retiring his uniform number 17.
April 29, 2022: Five pitchers combined to throw the second no-hitter in team history. Tylor Megill, Drew Smith, Joely Rodriguez, Seth Lugo, and Edwin Diaz struck out 12 batters and beat the Phillies 3–0.
Season Preview: New York fans should have plenty to cheer about this season, thanks to newcomers Max Scherzer, Chris Bassitt, Mark Canha, and Eduardo Escobar. They not only give the team proven production at important positions, they nudge last year's starters to the bench, where they provide valuable depth. Pete Alonso, Francisco Lindor, and Edwin Diaz provide star power, while prospects Francisco Alvarez, Mark Vientos, and Bret Baty wait for their chance to wear the blue and orange. The difference-maker for 2022? It will almost certainly be the health of Jacob DeGrom, who was pitching like a Hall of Famer before injuries ruined his 2021 season. If he returns to health, the Mets could win 100 games.
2021 Season
Season Recap: Everyone picked the Mets to run away with the NL East and they nearly did. But a dreadful August saw them drop from first place to third and the team finished well under .500. Jacob deGrom was having a historic season when he fell to an arm injury, while Noah Syndergaard never fully recovered from arm surgery in 2020. Superstars Francisco Lindor and Pete Alonzo got off to slow starts, while Brandon Nimmo, Jeff McNeil, JD Davis, and Michael Conforto spent weeks on the injured list.
August 28, 2021: The Mets retired number 36 in honor of Jerry Koosman. Koosman pitched New York to its first World Series title in 1969. The ceremony was delayed a year due to the COVID-19 pandemic.
July 12, 2021: Pete Alonzo won the All-Star Game Home Run Derby for the second year in a row. He beat Trey Mancini of the Orioles 23–22 in the final round.
July 02, 2021: Jacob deGrom was named NL Pitcher of the Month for June. It was the second time in 2021 deGrom won the award. On June 11th, he struck out his 100th batter of the year in his 61st inning—faster than anyone since the mound was moved back to 60'6" in 1893.
Season Preview: If the Mets don't score a ton of runs in 2021, something is very wrong. Francisco Lindor joins a club that already boasts star hitters Pete Alonzo, Michael Conforto, and Jeff McNeil. Jacob deGrom leads a pitching staff that includes Marcus Stroman, David Peterson, and Taijuan Walker. If the hurlers stay healthy—and Carlos Carrasco and Noah Syndergaard return from injuries—a 95-win season is within reach.
2020 Season
Season Recap: The experts who picked the Mets to finish first in the short season watched as they failed to get clutch hits and struggled to keep their opponents' batters off the bases. New York finished 26–34 and missed the playoffs. Jacob deGrom had another great year and led the NL with 104 strikeouts. Rookie David Peterson led the club with 6 wins.
Season Preview: The Mets have an everyday lineup and bench full of talented hitters, including Pete Alonso, Michael Conforto, Jeff McNeil, Ahmed Rosario and JD Davis. The pitching staff is led by Jacob deGrom, but beyond him there are many question marks. New manager Luis Rojas will have to get the best out of every player on the team for the Mets to make the playoffs.
2019 Season
September 28, 2019: Pete Alonso homered against the Braves to set a new record for home runs by a rookie, with 53. He broke the mark set last year by Aaron Judge of the Yankees.
July 7, 2019: Pete Alonso became the first NL rookie to his 30 home runs before the All-Star break.
June 22, 2019: Pete Alonso set a new NL record for home runs by a rookie before the All-Star break, with 25. He broke the mark set in 2017 by Cody Bellinger.
April 3, 2019: Jacob deGrom threw his 26th quality start in a row. That tied a record set by Hall of Famer Bob Gibson in 1968.
Season Preview: A huge trade with the Mariners landed All-Star Robbie Cano and closer Edwin Diaz, who join catcher Wilson Ramos among the newcomers at CitiField in 2019. The pitching rotation features Jake DeGrom and Noah Syndergaard. The Mets plugged important holes in their lineup, so if they can stay healthy they should be part of a tight NL East race.
2018 Season
Season Recap: For a brief moment early in the season, the Mets had all five of their top-rated starters—Noah Syndergaard, Jacob deGrom, Matt Harvey, Steven Matz and Zach Wheeler in the rotation together. Unfortunately, injuries, inconsistency and a trade of Harvey broke up the "big five" and the Mets finished 4th in the NL East. Of the five, deGrom had the best year, but struggled to win as the offense struggled to score. Among the few bright spots were solid year from outfielder Brandon Nimmo and shortstop Amed Rosario.
September 11, 2018: Jacob DeGrom set a new record when he held the Marlins to two earned runs. It was the 26 start in a row he had allowed two runs or less. The old record was set in 1910.
Season Preview: Mets fans are still waiting for their five great pitching stars to be healthy at the same time. Sometime in 2018, they will see Noah Syndergaard, Jake DeGrom, Matt Harvey, Zach Wheeler, and Steven Matz take the mound on consecutive days. It's the offense that worries new manager Mickey Callaway. Sluggers Yoenis Cespedes, Jay Bruce, Todd Frazier, and Michael Conforto have all battled injuries and inconsistencies. And no one is sure who the team's first baseman and catcher will be. On paper, the Mets have a playoff club. In reality, it is anyone's guess.
2017 Season
Season Recap: Few teams have ever suffered more injuries to key players than the Mets did in 2017. Jeurys Familia, Yoenis Cespedes, and Noah Syndergaard missed major time, as did several other stars. The good news for Mets fans was the performances of young position players Michael Conforto, Amed Rosario, and Dominic Smith.
July 24, 2017: Jose Reyes stole his 500th base in a game against the Padres. Only 38 other players had reached that mark.
2016 Season
November 1, 2016: The Mets looked dead halfway through the season as injuries struck their talented pitching staff. Rookies Seth Lugo and Robert Gsellman stepped up under pressure, while the New York bullpen was great all year. The Mets earned a spot in the Wild Card game, but lost to the Giants on a ninth-inning homer.
May 7, 2016: Pitcher Bartolo became the oldest player to hit his first major league home run. He was 42 years 349 days old when he homered against the Padres.
2015 Season
Season Roundup: The Mets won the NL pennant for the first time since 2000. Four young power pitchers led the way—Matt Harvey, Noah Syndergaard, Jacob deGrom, and Jeurys Familia. The team's offense got a boost from Yoenis Cespedes, who went on a home run tear after joining the Mets in July. The big story in New York was the power explosion by Daniel Murphy, who hit home runs in six straight playoff games to help his team reach the World Series. Although they held leads in four games, they lost to the Royals 4 games to 1.
July 12, 2015: Kirk Nieuwenhuis belted three homers in a game against the Diamondbacks. He was the first Met in history to hit three home runs in a home game.
June 28, 2015: Steven Matz became the first pitcher in history to drive in four runs in his first game. Matz defeated the Reds 7–2.
April 5, 2015: Matt Harvey takes the mound for the Mets after missing a year with an arm injury. He leads a pitching staff that includes veterans Jon Niese and Bartolo Colon, and rookie of the Year Jacob DeGrom. The team's offense will depend on sluggers David Wright, Lucas Duda, and Michael Cuddyer.
2014 Season
November 15, 2014: Jacob DeGrom was named NL Rookie of the Year. He edged Billy Hamilton of the Reds.
November 1, 2014: Without their best pitcher, Matt Harvey, the Mets did not expect to win the NL East in 2014. However, they expected better years from their outfielders, shortstop and bullpen. All three were inconsistent. The big news in New York was the power show put on by Lucas Duda, the fine hitting of second baseman Daniel Murphy, and the quality pitching of prospects Jacob deGrom and Jenrry Mejia.
September 15, 2014: Rookie Jacob DeGrom tied a big-league record when he struck out the first 8 batters he faced in a game against the Marlins.
August 1, 2014: Pitcher Jacob deGrom was named NL Rookie of the Month for July.
March 31, 2014: The Mets will have four of the best young pitchers in baseball in their rotation in 2015—Matt Harvey, Zach Wheeler, Noah Syndergaard and Jesus Montero. Only Wheeler, however, is likely to contribute in 2014. Harvey is hurt and the other two are still refining their games in the minors. As usual, the offense is led by David Wright and as usual it's not going to win a lot of games. Newcomer Curtis Granderson shoud help.
2013 Season
October 1, 2013: The highlight of the year for the Mets was hosting the All-Star Game. The rest of the season provided more questions than answers. Rising stars Ruben Tejada, Ike Davis, Lucas Duda, Wilmer Flores, Matt Harvey, and Bobby Parnell spent much of the year in the minors or on the disabled list. The fill-in players did a good job, but does that mean they can produce at the big-league level? The Mets will have a lot of decisions to make over the winter.
April 29, 2013: John Buck tied Johnny Bench and Charles Johnson for the most homers by a catcher in the month of April, with 9.
March 30, 2013: With Cy Young Award winner A.J. Dickey traded to Toronto, the new leader of the Mets' pitching is fire-baller Matt Harvey. The rest of the staff is a big question mark. New York's offense features David Wright, Lucas Duda, and Ike Davis, who had a great second half in 2012.
2012 Season
October 3, 2012: It was a tale of two halves for the Mets. On July 7, they were 46–39, a few games out of first place. From that point on, they won only 28 more games. The main highlight for New York fans was watching the amazing knuckleball pitcher R.A. Dickey. He won 20 games and led the NL in innings, strikeouts, shutouts, and complete games.
July 26, 2012: Rookie Matt Harvey pitched his first big-league game against the Arizona Diamondbacks and struck out 11 batters. Harvey broke Tom Seaver's team record for most strikeouts in his first start.
June 24, 2012: R.A. Dickey set a new team record by pitching 44 2/3 innings without allowing an earned run. He broke the mark set by Jerry Koosman in 1973.
June 1, 2012: Johan Santana pitched the first no-hitter in team history, against the St. Louis Cardinals. The Mets had gone more than 8,000 games without a "no-no."
April, 2012: Bobby Parnell was the team's closer at the end of the 2011 season. Over the winter, the Mets signed Frank Francisco and John Rauch. No matter who pitches the ninth inning for the Mets, they should have a pretty good bullpen in 2012.
Al Jackson — Pitcher
Born: 12/26/1935
Played for Team: 1962 to 1965 & 1968 to 1969
Al Jackson was one of the toughest left-handers in the NL when he pitched for the Mets. He had to be, because they didn't score much for him. In 1962, "Little Al" threw a one-hitter against the Houston Astros, and he also beat Bob Gibson and the St. Louis Cardinals 1–0. Jackson outdueled Gibson 1–0 again in 1964. He finished his Mets career with 10 shutouts.

Ed Kranepool — First Baseman
Born: 11/8/1944
Played for Team: 1962 to 1979
Ed Kranepool joined New York as a teenager and became an All-Star at the age of 20, in 1965. He and Donn Clendenon formed a two-man platoon at first base for the 1969 Mets. Both players hit home runs to help New York beat the Baltimore Orioles in the World Series that year.

Tug McGraw — Pitcher
Born: 8/30/1944
Died: 1/5/2004
Played for Team: 1965 to 1974
Tug McGraw began his career as a starter and was the first Mets pitcher to beat Sandy Koufax. After becoming a relief pitcher McGraw was the star of New York's bullpen during the team's pennant-winning seasons in 1969 and 1973.

Bud Harrelson — Shortstop
Born: 6/6/1944
Played for Team: 1965 to 1977
Bud Harrelson barely weighed 150 pounds, but what he lacked in size he made for with heart. He played in two All-Star Games and was one of the most dependable shortstops in baseball. Harrelson is best remembered for his wrestling match with Pete Rose during the 1973 playoffs. He showed the Mets they could stand up to the powerful Cincinnati Reds and win.

Cleon Jones — Outfielder
Born: 8/4/1942
Played for Team: 1963 to 1975
Cleon Jones was one of the league's best hitters in the late 1960s and early 1970s. He was in the Top 10 in batting average in 1968, 1969, and 1971. Jones was the starting left fielder for the NL in the 1969 All-Star Game and caught the final out of the World Series that fall.

Dave Kingman — Outfielder/First Baseman
Born: 12/21/1948
Played for Team: 1975 to 1977 & 1981 to 1983
Dave Kingman was the Mets' first great slugger. He set a team record for home runs in his first year in New York and led the NL in homers twice as a Met. In a 1976 game against the Los Angeles Dodgers, Kingman blasted three home runs.

Howard Johnson — Third Baseman
Born: 11/29/1960
Played for Team: 1985 to 1993
Howard Johnson was a switch-hitter with power from both sides of the plate. In 1987, he set an NL record for home runs by a switch-hitter with 36. He also stole 32 bases that season. In 1991, "HoJo" broke his own home run record when he led the league with 38.

Al Leiter — Pitcher
Born: 10/23/1965
Played for Team: 1998 to 2004
The Mets traded for Al Leiter because he knew what it took to win big games. He went 17–8 with a 2.34 ERA in 1998. In 1999, Leiter shut out the Cincinnati Reds in a one-game playoff. In 2000, he helped the Mets return to the World Series for the first time since 1986.

Pete Alonso — First Baseman
Born: 12/7/1994
First Season with Team: 2019
Pete Alonso smashed the all-time record for first-year players in 2019 when he hit 53 home runs. He was named Rookie of the Year and made the All-Star team that season.
BEST FOR LAST
In his last start of 1990, David Cone struck out 12 batters to finish with 232—10 more than runners-up Dwight Gooden and Ramon Martinez. On the final day of the 1991 season, Cone fanned 19 batters to tie a team record and win his second strikeout crown.

ALL OR NOTHING
In 1982, Dave Kingman led the NL in home runs but batted just .204. His average was lower than the NL Cy Young Award winner's average that season. Steve Carlton hit .218.

WORKING LATE
In April of 1968, the Mets lost to the Houston Astros 1–0 in a game that lasted six hours and six minutes. The only run was scored on an error by Al Weis in the 24th inning.

TURNING 30
In April of 2002, Al Leiter defeated the Arizona Diamondbacks. That made him the first player in history to defeat 30 different teams.

FAST COMPANY
When Pedro Martinez struck out his 3,000th batter with the Mets, he joined two exclusive clubs. Martinez was only the fourth pitcher with 3,000 strikeouts and fewer than 1,000 walks. He was just the third to reach 3,000 with more strikeouts than innings pitched. The first two to do this were Nolan Ryan and Randy Johnson.

LIGHTS OUT
On July 25, 1977, thousands of fans at Shea Stadium were left in the dark when a blackout struck New York City. To help find their way out of the stadium safely, the players drove their cars onto the field and shone their headlights into the stands.
Home Runs
1982 — Dave Kingman — 37
1988 — Darryl Strawberry — 39
1991 — Howard Johnson — 38
2019 — Pete Alonso — 52

Batting Average
2011 — Jose Reyes — .337
2022 — Jeff McNeil — .326

Runs Batted In
1991 — Howard Johnson — 117
2022 — Pete Alonso — 131

Stolen Bases
2005 — Jose Reyes — 60
2006 — Jose Reyes — 64
2007 — Jose Reyes — 78
2013 — Eric Young — 46

Wins
1969 — Tom Seaver — 25
1975 — Tom Seaver — 22
1985 — Dwight Gooden — 24

Strikeouts
1970 — Tom Seaver — 283
1971 — Tom Seaver — 289
1973 — Tom Seaver — 251
1975 — Tom Seaver — 243
1976 — Tom Seaver — 235
1984 — Dwight Gooden — 276
1985 — Dwight Gooden — 268
1990 — David Cone — 233
1991 — David Cone — 241
2012 — R.A. Dickey —  212
2019 — Jacob DeGrom — 255
2020 — Jacob deGrom — 104

Earned Run Average
1970 — Tom Seaver — 2.82
1971 — Tom Seaver — 1.76
1973 — Tom Seaver — 2.08
1977 — Tom Seaver — 2.34*
1978 — Craig Swan — 2.43
1985 — Dwight Gooden — 1.53
2008 — Johan Santana — 2.53
2018 — Jacob DeGrom — 1.70

* Seaver also played for the Cincinnati Reds in 1977.
| YEAR | OPPONENT | RESULT |
| --- | --- | --- |
| 1969 | Baltimore Orioles | Won 4–1 |
| 1973 | Oakland A's | Lost 4–3 |
| 1986 | Boston Red Sox | Won 4–3 |
| 2000 | New York Yankees | Lost 4–1 |