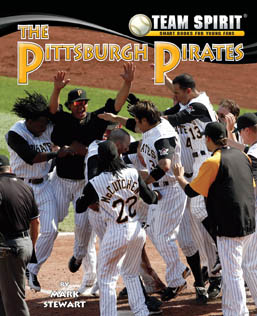 What's new with the Pittsburgh Pirates? That's what this page is all about.
The Team Spirit Extra Innings website begins where the Team Spirit books end.
That's because baseball never stands still … And I can never squeeze everything I want into 48 pages!
Take a look at some of the Pirates collectibles I have in my home.
Enjoy this site, check back whenever you like, and contact me with any questions or comments.
2023 Season
Season Preview:  The Pirates may not win more often than they lose in 2023, but they should be one of the league's most entertaining teams. They have added several solid veterans to a lineup that features some good, young talent—including shortstop Oneil Cruz, Mitch Keller, Roansy Contreras, Ji Hwan Bae, Ke'Bryan Hayes, and Bryan Reynolds. Among the newcomers is a familiar face, Andrew McCutchen, who won an MVP award in his first go-round in Pittsburgh. Fans in the Steel City can also expect to see a steady stream of rookies from a farm system that is well-stocked with prospects.
2022 Season
Season Recap: The Pirates tied the Reds for the worst record in the division, going 62–100. However, Pittsburgh fans had plenty to keep their hopes up for the future. Shortstop Oneil Cruz made jaw-dropping plays on a weekly basis and pitcher Roansy Contreras was unhittable at times—not bad for a couple of rookies in their first seasons. Bryan Reynolds was once again the team's most outstanding player, with a career-high 27 home runs. If the Pirates are able to sign him to a long-term contract—as they did with Ke'Bryan Hayes—Pittsburgh will have a solid core of young stars to build around.
Season Preview: Pittsburgh is quietly putting together the pieces of a contending team—maybe not this year, but not too far in the future, either. Fans can't wait to see what their towering young shortstop, Oneil Cruz can do, and hope for a healthy year from third baseman Ke'Bryan Hayes, as well as another All-Star season from outfielder Bryan Reynolds. The pitching staff has plenty of untapped talent with Mitch Keller, J.T. Brubaker, Zach Thompson, and David Bednar. With the Reds and Cubs weaker in 2022, a winning record is not totally out of the question for the Bucs.
2021 Season
Season Recap: The Pirates lost 100 games for the first time since 2010, but 2021 was not a "lost" season. Bryan Reynolds turned into one of the best all-around players in the NL, rookie Ke'Bryan Hayes played well after coming back from a hand injury, and David Bednar showed he could be a top relief pitcher. With lots of talent in the minors, the Pirates could be ready to move up in the standings in 2022 and 2023.
August 14, 2021: Kevin Newman banged four doubles in a game against the Brewers to tie a big-league record shared by a number of players, including Pittsburgh Hall of Famer Paul Waner.
July 28, 2021: Rookie infielder Rodolfo Castro hit two home runs against the Brewers. He became the first player in history whose first 5 big-league hits were all home runs.
Season Preview: The Pirates are expecting 2021 to be a rebuilding year. They will be counting Ke'Bryan Hayes and Mitch Keller to turn in All-Star seasons, and for minor-league prospects to continue their march toward the majors. If you had to pick one team to lose 100 games, unfortunately it would be the Pirates.
2020 Season
Season Recap: The Prates were the only team in the NL Central that didn't make the playoffs. Against that kind of competition, Pittsburgh was lucky to win as many games as it did. Among the few bright spots was the performance of rookie Ke'Bryan Hayes, who was called up at mid-season and batted .376. Hayes was named NL Rookie of the Month for September.
Season Preview: The Pirates have been putting together some good players in the minors, and this may be the year many of them step forward to show their stuff in the big leagues. In the meantime, Pittsburgh fans will be rooting for young leaders Josh Bell, Bryan Reynolds, Gregory Polanco and Colin Moran to provide some fireworks at home plate.
2019 Season
Season Recap: Pittsburgh fans were hoping the team would contend for a Wild Card spot, but they finished dead last in the NL Central with 69 wins. Young stars Josh Bell, Bryan Reynolds, and Kevin Newman put together breakthrough seasons on offense, but every pitcher on the staff seemed to go into a yearlong slump, ruining the Pirates' chances.
Season Preview: Pittsburgh was quiet in the off-season, but has enough talent to win 90 games or more if everyone plays the way they can. The Pirates will be looking for big years from Starling Marte, Josh Bell, and Chris Archer—and hope outfielder Gregory Polanco is 100 percent healthy for the second half.
2018 Season
Season Recap: A power outage doomed the Pirates to a so-so 82-win season. Although eight players hit 10 or more homers, none hit as many as 25. Pittsburgh was still in the mix for a Wild Card in the late summer, and traded for pitching ace Chris Archer. He joined a staff that included young guns Jameson Taillon and Trever Williams, who pitched well down the stretch. But the Bucs could not put together the big winning streak they needed.
Season Preview: The Pirates said goodbye to Gerritt Cole and Andrew McCutchen after the 2017 season, and handed the future of the club to a group of youngsters that includes Gregory Polanco, Colin Moran, Josh Bell, and Trevor Williams. The roster has lots of quality players—including Starling Marte and Corey Dickerson—but do they have enough talent to overtake their division rivals?
2017 Season
Season Recap: The Pirates had plenty of talent in 2017, but could not get everyone hot at the same time. The result was a disappointing 75-win season. Pittsburgh's leading hitters were Josh Bell and Andrew McCutchen. Its top pitchers—including Gerrit Cole, Ivan Nova, and Jameson Taillon—were up and down all year long.
August 23, 2017: Josh Harrison broke up a no-hitter by Rich Hill of the Dodgers with a home run in the bottom of the 10th inning. It was the first time in history a player broke up a no-hitter in extra innings with a walk-off home run.
May 1, 2017: Ivan Nova was named NL Pitcher of the Month for April. He tossed two complete games during the month, including a shutout.
2016 Season
November 1, 2016: Despite a roster full of young stars, the Pirates were no better than a .500 team all season. The outfield of Starling Marte, Andrew McCutchen and Gregory Polanco fell far short of expectations, and no starting pitcher won as many as 10 games. Among the few bright spots were the play of rookies Josh Bell and Jameson Taillon, who will be counted upon for big years in 2017.
October 5, 2016: The Pirates put a quality team on the field every day, but it didn't always show and the team finished with more losses than wins. Among the bright spots were young stars Gregory Polanco, Starling Marte, Josh Bell, Jameson Taillon, and Tyler Glasnow.
2015 Season
October 14, 2015: The Pirates enjoyed their best season in a generation, with 98 wins. Outfielders Andrew McCutchen and Starling Marte were the top hitters, along with shortstop Jung Ho Kang, a rookie from South Korea. Gerrit Cole won 19 games and Mark Melancon saved 51 to lead the NL. Pittsburgh's season ended with a loss to the Cubs in the Wild Card game.
April 5, 2015: Andrew McCutchen, Starling Marte, and Gregory Polanco make up the league's most exciting outfield, while Josh Harrison, Neil Walker, and Pedro Alvarez anchor a talented infield. If Gerrit Cole and the other starters can keep games close, the Pirates have a great chance to win the NL Central.
2014 Season
October 30, 2014: Pittsburgh had its second winning season in a row and snagged a Wild Card spot once again. Reigning MVP Andrew McCutchen had another great year, as did Neil Walker, Starling Marte and utilityman Josh Harrison. Mark Melancon and Tony Watson gave the team a dependable bullpen, while Edinson Volquez was the team's top starting pitcher. The Pirates faced the Giants in the Wild Card game, and were shut out by Madison Bumgarner, who went on to have a historic postseason.
September 1, 2014: Josh Harrison was named NL Player of the Month for August. He began the season as a little-used bench player, and finished the year as runner-up in the batting race.
March 31, 2014: The team's amazing run to the playoffs in 2013 will continue in 2014 if players like Pedro Alvarez, Starling Marte and Andrew McCutchen continue to improve. Pittsburgh's pitching was better than anyone expected last year; this year the Pirates need the bullpen to be even better because the starters may not be as strong.
2013 Season
November 14, 2013: Andrew McCutchen was named NL Most Valuable player for 2013. He had more than 20 steals and 20 homers, and batter over .300 for the Pirates, who finished with a winning record for the first time since 1992.
November 13, 2013: Francisaco Liriano was named NL Comeback Player of the Year for 2013. One year after going 6–12 for the Twins and White Sox, he won 16 games for the Pirates with 163 strikeouts and a 3.02 ERA.
October 1, 2013: The Pirates finally put it all together and made it to the playoffs after more than 20 years. Led by MVP candidate Andrew McCutchen and NL home run co-leader Pedro Alvarez, the team finished in second in the NL Central They defeated the Reds in the Wild Card game before losing to the Cardinals 3 games to 2 in the NLDS. Alvarez became the first player to knock in a run in each of his first six postseason games.
September 29, 2013: Pedro Alvarez finished the year tied with Paul Goldschmidt of the Diamondbacks for the NL home run crown, with 36. Alvarez was the fourth Pirate to win or share the championship (see the League Leaders list) and the first since Willie Stargell exactly 40 years ago.
September 3, 2013: The Pirates won their 81st game of the season, which ended a 20-year streak of losing seasons.
March 30, 2013: With exciting hitters like Andrew McCutchen, Pedro Alvarez, Neil Walker, and Starling Marte in the lineup, Pittsburgh can take a big step forward in 2013. They will need help from their pitchers, however, and that means newcomer Russell Martin will have to be a catcher and a teacher as the season wears on.
2012 Season
October 3, 2012: The Pirates had a losing record for the 20th year in a row, but the team looks ready to make a move in the NL Central. They were in first place in mid-July, but went into a slump in the second half. Andrew McCutchen led the way, with an All-Star season. He led the NL with 194 hits.
April, 2012: There are some interesting new faces in the mix for the Pirates in 2012. Erik Bedard, Casey McGehee, Clint Barmes, and Rod Barajas bring experience to one of baseball's youngest teams.
Ginger Beaumont — Outfielder
Born: 7/23/1876
Died: 4/10/1956
Played for Team: 1899 to 1906
The Pirates were the best team in baseball at the turn of the 20th century, and Ginger Beaumont was the club's leadoff hitter and center fielder. Beaumont led the NL in hits three years in a row and was league batting champ in 1902.

Babe Adams — Pitcher
Born: 5/18/1882
Died: 7/27/1968
Played for Team: 1907 to 1926
Babe Adams stunned the baseball world when he pitched three complete games in the 1909 World Series as a rookie. Adams had spectacular control and pitched until he was 44. He was still a Pirate when the team returned to the World Series in 1925.

Max Carey — Outfielder
Born: 1/11/1890
Died: 5/30/1976
Played for Team: 1910 to 1926
Max Carey was a terror on the basepaths. He led the NL in stolen bases 10 times. In 1922, he stole 51 bases in 53 attempts. Carey specialized in stealing home. He did it 33 times in his career.

Wilbur Cooper — Pitcher
Born: 2/24/1892
Died: 8/7/1973
Played for Team: 1912 to 1924
Although he did not play for a pennant-winner, Wilbur Cooper ranks as Pittsburgh's greatest left-handed pitcher. He fooled batters with his easy motion and rarely gave up more than a couple of runs a game. Cooper won 161 games from 1917 to 1924.

Lloyd Waner — Outfielder
Born: 3/16/1906
Died: 7/22/1982
Played for Team: 1927 to 1941 & 1944 to 1945
Lloyd Waner did not have the power of his brother, Paul, but he was a .300 hitter almost every year he played for the Pirates. Waner joined his brother in the Hall of Fame in 1967.

Bob Friend — Pitcher
Born: 11/24/1930
Played for Team: 1951 to 1965
Bob Friend pitched for the Pirates when they were bad and when they were good. Regardless of the team around him, he pitched his heart out. Friend was nicknamed the "Warrior" for his courage on the mound. He led the NL in ERA in 1955 and wins in 1958.

Dick Groat — Shortstop
Born: 11/4/1930
Played for Team: 1952 & 1955 to1962
Dick Groat also played pro basketball, but in the end baseball was his best game. He proved that in 1960 when he led the NL in batting and won the NL MVP award.

Bob Veale — Pitcher
Born: 10/28/1935
Played for Team: 1962 to 1972
Bob Veale was one of the most feared pitchers in baseball during the 1960s. He threw very hard but couldn't always control his pitches. He led the league in strikeouts and also walks in 1964. In 1968, Veale had an ERA of 2.05—one of the lowest ever for a left-handed pitcher.

John Candelaria — Pitcher
Born: 11/6/1953
Played for Team: 1975 to 1985 & 1993
John Candelaria was tough to beat when he had a lead. In 1977, he won 20 games and led the NL with a 2.34 ERA. In the 1979 World Series, "Candy Man" beat the Baltimore Orioles 4–0 in Game 6 when the Pirates were facing elimination.

Bill Madlock — Third Baseman
Born: 1/12/1951
Played for Team: 1979 to 1985
Bill Madlock's bad temper earned him the nickname "Mad Dog." But his bat hurt more than his bite. He was the NL's top hitter twice after joining Pittsburgh. The Pirates traded for Madlock during the 1979 season. He helped turn the team into a champion that year.

Doug Drabek — Pitcher
Born: 7/25/1962
Played for team: 1987 to 1992
Doug Drabek was one of baseball's best pitchers when he played for the Pirates. He had a 3.02 ERA with the club in six seasons and was the NL Cy Young Award winner in 1990.

Brian Giles — Outfielder
Born: 1/20/1971
Played for Team: 1999 to 2003
Pittsburgh had plenty of winning players during its losing seasons, including Brian Giles. Giles did it all. He had power, speed, and a great batting eye. Giles had more than 100 runs and RBIs three times with the Pirates.

Ke'Bryan Hayes — Third Baseman
Born: 1/28/1997
First Season with Team: 2020
Ke'Bryan Hayes led the Pirates with a .376 average as a rookie in 2020. His father, Charlie, played third base for the Pirates in 1996.
BROOKLYN–ESE
For many years, the Waner brothers were known to baseball fans as "Big Poison" (Paul) and "Little Poison" (Lloyd). It wasn't because they were toxic to enemy pitchers, however. They were nicknamed by Brooklyn fans, who pronounced the word "person" as "poison." The best way to tell the lookalike Waners apart was from their size!

BREAKING BARRIERS
In 1971—24 years after Jackie Robinson broke baseball's color line—the Pirates fielded the first "all-black" lineup in major-league history. The batting order was: Rennie Stennett (2B), Gene Clines (CF), Roberto Clemente (RF), Willie Stargell (LF), Manny Sanguillen (C), Dave Cash (3B), Al Oliver (1B), Jackie Hernandez (SS), and Dock Ellis (P).

HITTING THE DIRT
In the days before big salaries, many players made money by taking jobs that also kept them in shape during the off-season. One of the most unusual winter jobs belonged to Richie Hebner of the Pirates. In the 1960s and 1970s he worked as a gravedigger in a cemetery that was owned by his family.

NOT QUITE DONE
Honus Wagner retired from the big leagues in 1917 at the age of 43. However, his fans could still watch him on local baseball diamonds. Wagner loved the game so much he continued to play for semipro teams around Pittsburgh past the age of 50.

ONE–HOUR HURLERS
Few pitchers worked faster than the Pirates' Wilbur Cooper. Often he would be halfway through his windup before his catcher signaled which pitch he wanted. Another quick pitcher was Grover Cleveland Alexander of the Philadelphia Phillies. They once faced each other in a game that ended in less than an hour!
Home Runs
1902 — Tommy Leach — 6
1946 — Ralph Kiner — 23
1947 — Ralph Kiner — 51
1948 — Ralph Kiner — 40
1949 — Ralph Kiner — 54
1950 — Ralph Kiner — 47
1951 — Ralph Kiner — 42
1952 — Ralph Kiner — 37
1971 — Willie Stargell — 48
1973 — Willie Stargell — 44
2013 — Pedro Alvarez — 36*

• Tied with another player

Batting Average
1883 — Ed Swartwood — .357*
1900 — Honus Wagner — .381
1902 — Ginger Beaumont — .357
1903 — Honus Wagner — .355
1904 — Honus Wagner — .349
1906 — Honus Wagner — .339
1907 — Honus Wagner — .350
1908 — Honus Wagner — .354
1909 — Honus Wagner — .339
1911 — Honus Wagner — .334
1927 — Paul Waner — .373
1934 — Paul Waner — .362
1935 — Arky Vaughan — .385
1936 — Paul Waner — .373
1960 — Dick Groat — .325
1961 — Roberto Clemente — .351
1964 — Roberto Clemente — .339
1965 — Roberto Clemente — .329
1966 — Matty Alou — .342
1967 — Roberto Clemente — .357
1977 — Dave Parker — .338
1978 — Dave Parker — .334
1981 — Bill Madlock — .341
1983 — Bill Madlock — .323
2006 — Freddy Sanchez — .344

* Pittsburgh was a member of the American Association.

Runs Batted In
1901 — Honus Wagner — 126
1902 — Honus Wagner — 91
1906 — Joe Nealon — 83
1908 — Honus Wagner — 109
1909 — Honus Wagner — 100
1911 — Owen Wilson — 107
1912 — Honus Wagner — 102
1927 — Paul Waner — 131
1949 — Ralph Kiner — 127

Stolen Bases
1901 — Honus Wagner — 49
1902 — Honus Wagner — 42
1904 — Honus Wagner — 53
1907 — Honus Wagner — 61
1908 — Honus Wagner — 53
1913 — Max Carey — 61
1915 — Max Carey — 36
1916 — Max Carey — 63
1917 — Max Carey — 46
1918 — Max Carey — 58
1920 — Max Carey — 52
1922 — Max Carey — 51
1923 — Max Carey — 51
1924 — Max Carey — 49
1925 — Max Carey — 46
1926 — Kiki Cuyler — 35
1939 — Lee Handley — 17
1944 — Johnny Barrett — 28
1977 — Frank Taveras — 70
1978 — Omar Moreno — 71
1979 — Omar Moreno — 77
1997 — Tony Womack — 60
1998 — Tony Womack — 58

Wins
1886 — Ed Morris — 41*
1893 — Frank Killen — 36
1896 — Frank Killen — 30
1902 — Jack Chesbro — 28
1921 — Wilbur Cooper — 22
1925 — Ray Kremer & Lee Meadows — 20
1928 — Burleigh Grimes — 25
1930 — Ray Kremer — 20
1931 — Heinie Meine — 19
1943 — Rip Sewell — 21
1958 — Bob Friend — 22
1990 — Doug Drabek — 22

* Pittsburgh was a member of the American Association.

Strikeouts
1885 — Ed Morris — 298*
1945 — Preacher Roe — 148
1964 — Bob Veale — 250

* Pittsburgh was a member of the American Association.

Earned Run Average
1882 — Denny Driscoll — 1.21*
1895 — Pink Hawley — 3.18
1900 — Rube Waddell — 2.37
1901 — Jesse Tannehill — 2.18
1903 — Sam Leever — 2.06
1926 — Ray Kremer — 2.61
1927 — Ray Kremer — 2.47
1935 — Cy Blanton — 2.58
1955 — Bob Friend — 2.83
1987 — Rick Reuschel — 2.75**

* Pittsburgh was a member of the American Association.
** Reuschel also pitched for the San Francisco Giants in 1987.
Pirates in the World Series
| YEAR | OPPONENT | RESULT |
| --- | --- | --- |
| 1903 | Boston Americans | Lost 5–3 |
| 1909 | Detroit Tigers | Won 4–3 |
| 1925 | Washington Senators | Won 4–3 |
| 1927 | New York Yankees | Lost 4–0 |
| 1960 | New York Yankees | Won 4–3 |
| 1971 | Baltimore Orioles | Won 4–3 |
| 1979 | Baltimore Orioles | Won 4–3 |