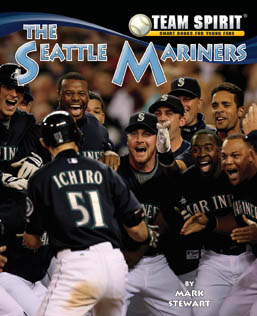 What's new with the Seattle Mariners? That's what this page is all about.
The Team Spirit Extra Innings website begins where the Team Spirit books end.
That's because baseball never stands still … And I can never squeeze everything I want into 48 pages!
Take a look at some of the Mariners collectibles I have in my home.
Enjoy this site, check back whenever you like, and contact me with any questions or comments.
2023 Season
Season Preview:  The Mariners gave baseball fans some exciting moments during the 2022 playoffs and should return to the postseason in 2023. Julio Rodriguez gets to play a full year and has the ability to hit 40 homers and steal 40 bases. Newcomers Kolten Wong and Teoscar Hernandez improve the club at two important positions, while catcher Cal Raleigh and shortstop JP Crawford are Gold Glovers. Luis Castillo and Robbie Ray lead a solid pitching staff that could easily produce 90-plus victories.
2022 Season
Season Recap: The Mariners finally made it back to the playoffs after 20 years, with a solid 90–72 record. They scored a dramatic win over the Blue Jays in the Wild Card series but fell to the Astros in the next round. Four Seattle players hit 20 or more home runs, including super rookie Julio Rodriguez, who led the club with a .284 average and 25 stolen bases. Eugenio Suarez was tops on the M's with 31 homers and 87 RBIs. Logan Gilbert and Robbie Ray were Seattle's best starters, while Paul Sewald led a bullpen with lots of live arms.
August 24, 2022: George Kirby threw 24 strikes in a row to begin his game against the Nationals. That broke the record of 21, held by Joe Musgrove.
July 18, 2022: Rookie sensation Julio Rodriguez finished as runner-up in the All-Star Game Home Run Derby, falling to Juan Soto in the final round, 19-18. Rodriguez hit 81 balls over the wall during the competition—the second-most in history.
Season Preview: It has been a very long time since the Mariners made the playoffs, but this year their chances look better than ever. Rookie Julio Rodriguez lit it up in Spring Training and has the tools to become an All-Star in his first season. Robbie Ray, last year's Cy Young Award winner, is new to Seattle, as are Jesse Winker, Adam Frazier and Eugenio Suarez—all stars in the National League. The Mariners made a good run at the postseason in 2021 and are a much stronger club heading into 2022.
2021 Season
Season Recap: The Mariners were the surprise success story of baseball in 2021. They beat the odds and went into the season's final weekend with a chance to make the playoffs. That didn't happen, but their 90 victories shocked experts who predicted the might not even win 70 games. The M's began the season with good talent, but big years from little-known players like Ty France, Chris Flexen, and Yusei Kikuchi gave them the extra edge to beat the odds. Mitch Haniger and Kyle Seager had career years at the plate, while Drew Steckenrider filled the shoes of relief ace Kendall Graverman after he was traded to the Astros in July.
Season Preview: The youth movement in Seattle continues in 2021, led by Kyle Lewis, Taylor Trammell, Evan White, and Jared Kelenic. The return of James Paxton to the pitching staff after two years with the Yankees gives Mariners fans hope for a winning record. They know that young players can be exciting, but a lack of experience also can cost the club a lot of victories.
2020 Season
November 9, 2020: Outfielder Kyle Lewis was named AL Rookie of the Year. He finished ahead of Luis Robert of the White Sox and Cristian Javier of the Astros.
Season Recap: A seven-game losing streak in August ended any hope Seattle fans had of a September playoff run. The Mariners' hitting was weak all year despite good seasons from their two Kyles, Lewis and Seager. Marco Gonzalez and Justus Sheffield were the bright spots on a pitching staff that fought hard all year but just could not put up enough W's.
August 17, 2020: Kyle Seager played against his younger brother, Corey, for the first time when the M's played the Dodgers. Both brothers slammed home runs in the Dodgers' 11–9 victory.

Season Preview: The Mariners have spent the last few years rebuilding their minor-league system with exciting prospects. They probably won't make a big difference in 2020, but players like Evan White, Kyle Lewis, Justus Sheffield, and Justin Dunn should gain valuable experience in 2020. Marco Gonzalez and Dan Vogelbach will look to repeat their excellent 2019 seasons.
2019 Season
Season Recap: The M's finished last in the AL West in Felix Hernandez's farewell season. While King Felix never got it going, lefty Marco Gonzales had another great season leading the starting rotation in wins, strikeouts and ERA. Seattle's strength was its power hitting: 10 players reached double-figures in home runs, led by first baseman Dan Vogelbach, who made the All-Star Game in his first year as a regular. Mallex Smith led the AL in stolen bases in his first year with the M's.
May 1, 2019: Felix Hernandez became the 36th pitcher in history to strike out 2,500 batters.
Season Preview: The Mariners decided to trade off some of their big-name players and start fresh in 2019. Mitch Haniger and Marco Gonzalez may be the next to go. Seattle fans will still have plenty of stars to watch, including pitching ace Felix Hernandez and newcomers Jay Bruce and Edwin Encarnacion. There should be plenty of home runs in Seattle's ballpark this year—hopefully most will come off Mariner bats.
2018 Season
Season Recap: The Mariners had a shot at making the playoffs for the first time since 2001, but injuries to ace Felix Hernandez and Robinson Cano limited them to 89 wins—9 short of a Wild Card berth. Nearly two-thirds of those victories were closed by Edwin Diaz, who set a team record with 57 saves. Marco Gonzalez and Mike Paxton had good years on the mound, too. Nelson Cruz led the M's with 37 homers and Jean Segura led the regulars with a .304 average.
May 8, 2018: James Paxson no-hit the Blue Jays. It was just the second no-hitter thrown by a player who was born in Canada, and the first in 73 years.
Season Preview: Despite putting good players on the field year after year, the Mariners haven't made the playoffs since 2001. They will look to snag a Wild Card spot in 2018 behind pitchers Felix Hernandez and James Paxton, and hitters Jean Segura, Dee Gordon, Nelson Cruz, and Robinson Cano. These six stars won't be enough to drive the team to the postseason, however. The M's will need good performances from their entire pitching staff, and solid years from the bottom half of the batting order.
2017 Season
Season Recap: Robinson Cano and Nelson Cruz had great years at the plate, while newcomer Jean Segura hit .300. However, the team never got its pitching straightened out and finished a disappointing 78–84. Two long trips to the disabled list for ace Felix Hernandez prevented the M's from competing for a playoff spot.
August 12, 2017: The team retired uniform #11 in honor of all-time great Edgar Martinez. Martinez already has a street named after him near the ballpark, and a restaurant inside SafeCo Field, Edgar's Cantina.
July 11, 2017: Robinson Cano was named All-Star Game MVP. His 10th inning home run gave the AL a 2–1 victory.
2016 Season
November 1, 2016: After leading the AL West for most of May, the Mariners struggled to play consistent ball the rest of the way and finished four wins short of a playoff berth. An injury to Felix Hernandez probably cost them those four wins. The Seattle offense was powered by Robinson Cano, Nelson Cruz and Kyle Seager, who combined for 112 homers and 307 RBIs.
2015 Season
October 6, 2015: Nelson Cruz went on an amazing home run tear early in the year, and continued belting long balls to finish with 44. Robby Cano and Kyle Seager were also bright spots for the Mariners. Felix Hernandez had his usual great season, but trouble in the bullpen prevented Seattle from finishing higher than 4th place.
May 10, 2015: Felix Hernandez struck out his 2,000th batter during a game against the Oakland A's. He was just the 8th player in history to reach 2,000 strikeouts before turning 30.
April 19, 2015: Nelson Cruz hit two home runs against the Rangers to give him 8 homers in 8 games.
April 5, 2015: The Mariners added a big bat in Nelson Cruz over the winter. He will team with Robinson Cano and Kyle Seager to power the Seattle offense. Felix Hernandez will lead the pitching staff as the team battles for the AL West crown.
2014 Season
November 15, 2014: Pitcher Chris Young was named AL Comeback Player of the Year. He soent all of 2013 in the minors before going 12–9 with a 3.65 ERA for Seattle in 2014.
November 1, 2014: Despite the signing of Robinson Cano, Seattle finished one game short of the Wild Card spot claimed by the Kansas City Royals. Thirteen losses in September kept the M's from returning to the playoffs for the first time since their last trip, in 2001. Cano had a good year at the plate and in the field, and provided important leadership to developing stars Kyle Seager, Michael Saunders, and Dustin Ackley. As usual, Felix Hernandez was the star of the Seattle pitching staff, with a 15–6 record and a league-low 2.14 ERA.
September 28, 2014: Felix Hernandez allowed no runs in 5 1/3 innings against the Angels to win the AL ERA crown with a 2.14 mark. It was the second time he was the league ERA leader.
March 31, 2014: The signing of second baseman Robinson Cano was the big news in Seattle during the off-season. He will play the role Derek Jeter did in New York, helping the Mariners' rising stars learn how to win. The pitching staff has a great 1-2 punch with Felix Hernandez and Hisashi Iwakuma, but there a lot of question marks after that. One answer could be young Taijuan Walker, who is 21 and can hit 100 on the radar gun.
2013 Season
December 12, 2013: Robinson Cano signed a free agent contract with the team that pays him $240 million over 10 years. It was the largest contract ever given to a second baseman.
October 1, 2013: The Mariners had good depth in their lineup, but no player stepped up and produced a career year. Pitching was the big story in Seattle, with another standout performance from Felix Hernandez and a big season from Japanese veteran Hisashi Iwakuma.
September 21, 2013: Raul Ibanez tied a mark set by Hall of Famer Ted Williams when he hit his 29th home run of the year. Ibanez and Williams share the record for most home runs by a player 40 years old or older.
March 30, 2013: Seattle's young talent will be expected to take a big step forward in 2013. The Mariners may not contend for the AL West title, but they could make things very uncomfortable for the other teams in the division, with help from their veteran hitters—including Mike Morse, Kendry Morales, and Raul Ibanez.
2012 Season
October 3, 2012: It was "feast or famine" for the Mariners much of the 2012 season. Eight Seattle batters reached double-figures in home runs, but six regulars batted lower than .250. Felix Hernandez was brilliant for the M's, with a 13–9 record, 223 strikeouts and 5 shutouts. The team finished fourth in the AL West.
August 15, 2012: Felix Hernandez pitched a 1–0 perfect game against the Tampa Bay Rays. It was the first in team history, and the third of the 2012 baseball season.
June 8, 2012: The Mariners set a new American League record by using six pitchers in a no-hitter against the Los Angeles Dodgers. Kevin Millwood started the game, and was relieved by Charlie Furbush, Stephen Pryor, Lucas Luetge, Brandon League, and Tom Wilhelmsen.
April, 2012: The Mariners' 2012 batting order will be built around Jesus Montero, the young star acquired from the New York Yankees for pitcher Michael Pineda. Montero will share catching duties with veteran Miguel Olivo, and be the designated hitter on days when he's not behind the plate. He might also play a little first base. Last season Montero was ranked as the #3 prospect in all of baseball, behind Bryce Harper of the Nationals and Mike Trout of the Los Angeles Angels.
Bruce Bochte — First Baseman
Born: 11/12/1950
Played for Team: 1978 to 1982
In 1979, Bruce Bochte and Willie Horton joined the Mariners to provide punch in the middle of the lineup. Both players drove in 100 runs. That season Bochte led the team with a .316 average and represented the M's in the All-Star Game.

Harold Reynolds — Second Baseman
Born: 11/26/1950
Played for Team: 1983 to 1992
When Harold Reynolds stole 60 bases in 1987, he became the first Mariner to lead the league in an important offensive category. In 1988, he led the AL with 11 triples. Reynolds was also one of the best fielders in the game, winning three Gold Gloves from 1988 to 1990.

Jamie Moyer — Pitcher
Born: 11/18/1962
Played for Team: 1996 to 2006
Jamie Moyer was 33 when he was traded to Seattle. The team hoped to squeeze a few good years out of him. Instead they got one solid season after another—including a pair of 20-win campaigns when Moyer was 38 and 40! He had a winning record for the M's in nine of his 11 seasons.

Freddy Garcia — Pitcher
Born: 10/6/1976
Played for Team: 1999 to 2004
Freddy Garcia came to Seattle in the trade that sent Randy Johnson to Houston in 1998. Garcia won 17 games in his first year with the Mariners. He was an All-Star in 2001 and 2002.

Mike Cameron — Outfielder
Born: 1/8/1973
Played for Team: 2000 to 2003
The Mariners received Mike Cameron when they traded Ken Griffey Jr. to the Cincinnati Reds. Cameron gave them two Gold Glove seasons and hit 87 homers during his four years in Seattle.

Adrian Beltre — Third Baseman
Born: 4/7/1979
Played for Team: 2005 to 2009
Adrian Beltre was the finest defensive third baseman in team history. He could hit, too. Besides winning two Gold Gloves for his fielding, Beltre hit 25 or more homers three years in a row for Seattle.

Felix Hernandez — Pitcher
Born: 4/8/1986
Played for Team: 2005 to 2019
Felix Hernandez was an All-Star six times and in 2010—the year he wasn't picked—he won the Cy Young Award. Hernandez was nicknamed "King Felix" by the Mariners' fans.
MR. 200
In 2010, Ichiro reached 200 hits for the 10th year in a row. No one had ever done that before. Ichiro broke Ty Cobb's AL record for total number of 200-hit seasons and tied Pete Rose for the major league record.

EXTRA EFFORT
One of the rarest feats for a batter is hitting for the cycle—a single, double, triple, and homer in the same game. In a 1993 game against the Oakland A's, Jay Buhner had a single, double, and homer after nine innings. Because the score was tied, the teams played extra innings. Buhner smashed a triple in the 14th inning to complete the cycle.

FIRST NAME FIRST
Ichiro Suzuki is the only player in American or Japanese baseball to have his first name on the back of his uniform. He is so popular in Japan that letters addressed simply to ICHIRO, JAPAN will be delivered to him.

IN A FAMILY WAY
Ray Boone and Bret Boone are the first grandfather–grandson duo to lead the American League in RBIs. In 1955, Ray led the AL while playing for the Detroit Tigers. Bret knocked in a league-best 141 runs in 2001 for the Mariners. Ray's son (and Bret's father) Bob was an All-Star catcher during the 1970s and 1980s. Bret's brother, Aaron, played 12 years in the majors and hit a pennant-winning homer for the New York Yankees in the 2003 playoffs.

#1 DAD
When Ken Griffey Sr. joined the Mariners in 1990, he asked Matt Young if he would be willing to give up number 30. Young agreed and became one of the only pitchers ever to wear number 1. He let his eight-year-old daughter, Brynn, choose the number.

BUSY BULLPEN
In a 1992 game against the Texas Rangers, the Mariners set a record by using 11 different pitchers.

BETTER LUCK NEXT TIME
When Ken Griffey Jr. was 10, he played the entire Little League season without making an out. When he made his first out at age 11, he cried.

YOUNG GUN
In 1994 and 1995, Alex Rodriguez was the youngest player in the major leagues. During the 1996 season, he became the youngest shortstop in the history of the All-Star Game. At the end of 1996, A-Rod was the youngest player ever to be named MVP.

NAMELY EDGAR
Edgar Martinez won the AL's Outstanding Designated Hitter Award five times during his career with the Mariners. After he retired, the award was renamed the Edgar Martinez Award. He is one of only five players to have an official award named after him. The others are Cy Young (best pitcher), Hank Aaron (best hitter), Roberto Clemente (sportsmanship & community service), and Ted Williams (All-Star MVP).
Home Runs
1994 — Ken Griffey Jr. — 40*
1997 — Ken Griffey Jr. — 56
1998 — Ken Griffey Jr. — 56
1999 — Ken Griffey Jr. — 48

* The 1994 season was shortened by a labor dispute.

Batting Average
1992 — Edgar Martinez — .343
1995 — Edgar Martinez — .356
1996 — Alex Rodriguez — .358
2001 — Ichiro — .350
2004 — Ichiro — .372

Runs Batted In
1997 — Ken Griffey Jr. — 147
2000 — Edgar Martinez — 145
2001 — Bret Boone — 141
2017 — Nelson Cruz — 119

Stolen Bases
1987 — Harold Reynolds — 60
2001 — Ichiro — 56

Wins
2009 — Felix Hernandez — 19

Strikeouts
1982 — Floyd Bannister — 209
1984 — Mark Langston — 204
1986 — Mark Langston — 245
1987 — Mark Langston — 262
1992 — Randy Johnson — 241
1993 — Randy Johnson — 308
1994 — Randy Johnson — 204*
1995 — Randy Johnson — 294

* The 1994 season was shortened by a labor dispute.

Saves
2018 — Edwin Diaz — 57

Earned Run Average
1995 — Randy Johnson — 2.48
2001 — Freddy Garcia — 3.05
2010 — Felix Hernandez — 2.27
2014 — Felix Hernandez — 2.14