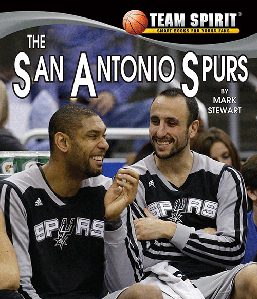 What's new with the San Antonio Spurs? That's what this page is all about.
The Team Spirit FAST BREAK website begins where the Team Spirit books end.
That's because basketball never stands still … And I can never squeeze everything I want into 48 pages!
Take a look at some of the Spurs collectibles I have in my home.
Enjoy this site, check back whenever you like, and contact me with any questions or comments.
Updates
2022-23 Season
Season Recap: San Antonio fans sat through a rebuilding year that saw their club drop from 34 wins to just 22. Keldon Johnson became a star in his fourth NBA season and led the Spurs in scoring, while Tre Jones did a good job at point guard in his first year as a starter. Sharpshooter Devin Vassell also took an important step forward, but unfortunately he missed half the year due to injury. Two 19-year-old rookies—Malaki Branham and Jeremy Sochan—also showed they could hold their own in the NBA.
January 13, 2023: The Spurs drew 68,323 fans for a home game against the Golden State Warriors. It set an NBA record for the biggest crowd to watch a regular-season game. The old record was set in 1998 at a game in Atlanta between the Hawks and Bulls.
Season Preview: Dejounte Murray will be one of the few familiar Spurs to NBA fans in 2022–23. San Antonio's lone All-Star last year re-signed with the team and will be the main piece in a major rebuilding job. The Spurs have a ton of draft picks over the next five years. Will they be okay losing 60-plus games and patiently build a good young club? Or will they trade them for veterans who can get them right back to the playoffs? With the amazing Victor Wembanyama available in the 2023 NBA Draft, San Antonio fans may not be sure which to root for.
2021-22 Season
Season Recap: The Spurs needed all 34 of their wins to qualify for the playoff "play-in" game—but lost to the New Orleans Pelicans. Dejounte Murray led the team with 21.1 points and 9.0 rebounds per game. He also was the only Spur to lead the NBA in a major statistic, finishing with 2.0 steals per game. Among the few bright spots for San Antonio was the excellent play of young forward Keldon Johnson and veteran center Jakob Poeltl, who had career-bests in points, rebounds, and minutes played.
February 04, 2022: Gregg Popovich became the first NBA coach to win 1,500 games (including regular season and playoffs).
Season Preview: The Spurs spent much of last season developing a core of young players to move the team forward. Heading into 2021–22, they have some possible future stars, including center Jakob Poeltl, forward Keldon Johnson, and guards Derrick White and Dejounte Murray. All-Star DeMar DeRozan was traded for high draft picks, and the Spurs added a couple of long-range shooters in Doug McDermott and Bryn Forbes. If San Antonio gets off to a good start, look for them to add a big-name star to lead their young squad.
2020-21 Season
Season Recap: The Spurs missed the playoffs for the second year in a row. Injuries were part of the problem, but the club also needs to add an All-Star or two to help its two best all-around players, DeMar DeRozan and Dejounte Murray. Heading into 2021–22, the team has money to spend on free agents, and will look for the kind of stars that helped them win NBA championships in the past.
March 27, 2021: With a victory over the Bulls, San Antonio coach Gregg Popovich became just the third coach in league history to win 1,300 games.
Season Preview: After many years as a team built around big men, the Spurs have found success "going small." They will continue this strategy in 2021, counting on veterans DeMar Darozen, LaMarcus Aldridge, Dejounte Murray, and Derick White. That will give their rookie guards, Tre Jones and Devin Vassell, time to gain NBA experience and contribute down the stretch.
2019-20 Season
Season Recap: The Spurs finished the season 32–39 and did not make the playoffs. LaMarcus Aldridge and DeMar DeRozan were the team's top scorers, with Aldridge leading San Antonio in rebounds and DeRozan first in assists. Young point guard Dejounte Murray was given more minutes and played well, but the Spurs will need to give their two veteran stars more support next season.

Season Preview: San Antonio fans will be cheering for longtime stars Demar Derozan and LaMarcus Aldridge this season, but the real excitement may be generated by a group of young and improving backcourt players that includes Derrick White and Lonnie Walker. If DeJounte Murray is healthy, the Spurs could be one of the surprise teams in the West.
2018-19 Season
Season Recap: Despite missing longtime stars Tony Parker, Manu Ginobili, and Kawhi Leonard, the Spurs rolled to 48 wins and nearly beat the Nuggets in a thrilling first-round playoff series. It was the 22nd year in a row San Antonio had earned a place in the postseason. Veterans DeMar DeRozen and LaMarcus Aldridge led the Spurs to most of their wins, with help from Bryn Forbes, Derrick White, Rudy Gay, and Sixth Men Patty Mills and Marco Belinelli.
April 10, 2019: The Spurs finished the year with the NBA's best three-point shooting percentage (39.2%).
Season Preview: Unlike most NBA teams, the Spurs prefer to shoot from close range. With LaMarcus Aldridge and Rudy Gay, they are very good at it. Now DeMar DeRozan—another high-scoring mid-range shooter—joins the offense. Will he clog things up or drop 25 a game on San Antonio opponents? Under any other coach than Gregg Popovich, Spurs fans might have something to worry about. But "Pop" knows how to convince players working together for the good of the team.
2017-18 Season
Season Recap: The Spurs went 47–35 in the NBA's toughest division, but age and injuries took their toll. For the first time in a generation, the team had a losing record on the road. San Antonio's best player, Kawhi Leonard, missed most of the year with a leg injury. But LaMarcus Aldridge picked up the slack by averaging 23.1 points per game. In the playoffs, they faced the Golden State Warriors—the same team they played in the conference finals the year before—and lost 4 games to 1.
March 21, 2018: The Spurs won their 42nd game of the year, guaranteeing them a winning record. It was the 21st year in a row they won more games than they lost. No team had ever done that before.
January 28, 2018: Manu Ginobili scored 15 points in a game against the Sacramento Kings. Vince Carter of the Kings scored 21 in the same game against the Spurs. It was the first time in NBA history that two players over the age of 40 scored 15 points in the same game.
Season Preview: Age and injuries are catching up with the Spurs, but who would dare predict they might win fewer than 50 games? Kawhi Leonard and LaMarcus Aldridge will lead the team, backed by role players Patty Mills, Pau Gasol, Danny Green, Manu Ginobili, and Rudy Gay—plus Tony Parker, who is due to return from surgery.
2016-17 Season
Season Recap: The Spurs won 61 games and made the playoffs for the 20th year in a row despite the retirement of all-time great Tim Duncan. Newcomer Pau Gasol filled Duncan's shoes while Kawhi Leonard averaged over 25 points per game and made the NBA All-Defensive team for the fourth year in a row. The Spurs made it to the Western Conference Finals before falling to the Warriors.
2015-16 Season
Season Preview: The big news in San Antonio is the addition of All-Star LaMarcus Aldridge, who signed with the Spurs as a free agent. He joins Tim Duncan, Manu Ginobili, Tony Parker, and Kawhi Leonard on what might have been the NBA's best second-half team last season. If the old guys can stay healthy, the Spurs could win another title.
2014-15 Season
Season Recap: After a slow start, the Spurs turned it on in the final months and many expected them to return to the NBA Finals. Kawhi Leonard continued to develop into a superstar. He led the NBA in Steals and was named Defensive Player of the Year. Danny Green also assumed more of a leading role. The trio of Parker, Ginobili, and Duncan averaged 39 points, 14 rebounds, and 12 assists per game. A hard-fought opening-round playoff series against the Los Angeles Clippers ended in defeat on a controversial play by Chris Paul.
Season Preview: Until someone proves otherwise, the Spurs are the team to beat in the West in 2014–15. Aging stars Tim Duncan, Manu Ginobili, and Tony Parker provide leadership and experience while Kawhi Leonard—who turned in a superstar performance in the NBA Finals—provides a spark at both ends of the court.
2013-14 Season
Season Recap: The Big Three of Duncan, Parker, and Ginobili led San Antonio to 62 victories—the most in the NBA. Coach Gregg Popovich did a magnificent job working his players in and out of the lineup. Not a single Spur averaged more than 30 minutes a game. As a result the "old" Spurs gave younger teams more than they could handle. In the playoffs, San Antonio defeated the Mavericks in a tough opening-round series and then cruised to a rematch with the Miami Heat in the NBA Finals. After a near-miss in 2013 against the Heat in 2013, the Spurs finished them off 4 games to 1 to win their fifth championship. In the last three games—all easy victories— Kawhi Leonard led the team in scoring with 61 points.
Rich Jones — 6′ 6″ Forward
Born: 12/27/1946
Played for Team: 1969–70 to 1974–75
Rich Jones was an All-Star twice for the team—once with the Dallas Chaparrals and once with the Spurs. He often scored 20 points and pulled down 10 rebounds a night, and ranked among the Top 30 ABA players in these career categories. Jones was also the team's top defensive player.

Johnny Moore — 6′ 1″ Guard
Born: 3/3/1958
Playevd for Team: 1980–81 to 1989–90
Johnny Moore was one of the NBA's top set-up men. He led the league with 762 assists in his second season, and was one of the team's most popular players. In the playoffs, Moore bumped up his numbers, averaging 22.5 points and 14.6 assists in 1983.

Terry Cummings — 6′ 9″ Forward
Born: 3/15/1961
Played for Team: 1989–90 to 1994–95
Terry Cummings was already an All-Star when the team traded Alvin Robertson for him. He provided the Spurs with excellent scoring, defense, and leadership during David Robinson's early years.

Avery Johnson — 5′ 10″ Guard
Born: 3/25/1965
Played for Team: 1990–91 to 19922–93 & 1994–95 to 2000–01
Avery Johnson was a unique package of talent, drive, and enthusiasm. It took him a while to earn the team's point guard role, but once he did, the Spurs became a championship team. He ranked among the Top 10 in assists four times with San Antonio.

Kawhi Leonard — 6′ 7″ Forward
Born: 6/29/1991
First Season with Team: 2011–12
The Spurs have had their greatest success when they made impossible match-ups for their opponents. Kahwi Leonard continued that tradition when San Antonio traded for him after the 2011 draft. He quickly became one of the team's best players at both ends of the court.
NICE GOIN' COACH!
In the team's very first game, player-coach Cliff Hagan scored 40 points. Later in the 1967–68 season, he was picked to play in the ABA All-Star Game. Hagan became the first player to appear as an All-Star in both the NBA and ABA.

WELCOME TO "SAN ANTONE"
When the Spurs moved to San Antonio, the team's owners simply hoped they would improve their ticket sales. What happened next was remarkable. Fans in the Texas town went wild for their first "major-league" sports team—and topped the previous year's attendance after just 19 games.

SPUR OF THE MOMENT
Gangly 6′ 7″ guards usually aren't known for their power dunks. But in 1996, San Antonio's Brent Barry amazed fans during the All-Star Weekend when he won the NBA Slam Dunk Contest. Barry—whose father Rick was an NBA Hall of Famer—won the contest by taking off from behind the free throw line and slamming the ball one-handed through the basket.
SCORING
1977–78 — George Gervin — 27.2
1978–79 — George Gervin — 29.6
1979–80 — George Gervin — 33.1
1981–82 — George Gervin — 32.3

REBOUNDING
1974–75 — Swen Nater — 16.4*
1990–91 — David Robinson — 13.0
1993–94 — Dennis Rodman — 17.3
1994–95 — Dennis Rodman — 16.8

ASSISTS
1981–82 — Johnny Moore — 9.7

STEALS
1985–86 — Alvin Robertson — 3.7
1986–87 — Alvin Robertson — 3.2

Steals did not become an official statistic until 1973–74.

BLOCKED SHOTS
1975–76 — Billy Paultz — 3.1*
1980–81 — George Johnson — 3.4
1981–82 — George Johnson — 3.1
1991–92 — David Robinson — 4.5

Blocks did not become an official statistic until 1973–74.

* ABA Leader
Playing for the Championship
SPURS in the FINALS
| SEASON | OPPONENT | SCORE |
| --- | --- | --- |
| 1998–99 | New York Knicks | Won 4–1 |
| 2002–03 | New Jersey Nets | Won 4–2 |
| 2004–05 | Detroit Pistons | Won 4–3 |
| 2006–07 | Cleveland Cavaliers | Won 4–0 |
| 2012–13 | Miami Heat | Lost 3–4 |
| 2013–14 | Miami Heat | Won 4–1 |