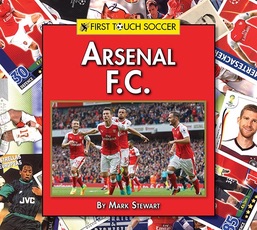 Soccer players never get tired of playing the game.
That's what this page is all about.
Where your FIRST TOUCH SOCCER book ends, the FREE KICK page begins.
It's a chance for you to learn more about Arsenal … and for me to talk about some of the great stories I couldn't squeeze into the book.
Scroll down to get the latest news … and to learn more about English soccer. And check out some of the cool collectibles I have in my home.
Enjoy this site, check back whenever you like, and contact me with any questions or comments.
What's up with Arsenal F.C.
March 14, 2023: Team captain Martin Odegaard was named Premier League Player of the Year at the London Football Awards.
March 1, 2023: 21-year-old striker Bukayo Saka executed a terrific spin moved and drilled a goal in a win over Everton. It was his 50th goal in Premier League competition.
January 22, 2023: The Gunners defeated Manchester United, 3–2 to finish their best-ever first half with 50 points. ManU was the only team able to beat them in the first half. Eddie Nketiah's game-winner was his 13th goal in his last 13 starts at home.
December 13, 2022: Arsenal defeated AC Milan 2–1 to win the 2022 Dubai Super Cup, a mid-season friendly tournament that that also included Liverpool and Lyon.
November 12, 2022: The Gunners entered the World Cup break with a record of 12–1–1 to claim first place in the Premier League. The club had allowed just one goal since early October.
October 6, 2022: American goalkeeper Matt Turner produced his first clean sheet as a member the Gunners. Arsenal defeated Norway's FK Bodo/Glimt 3–0 in Europa League competition.
September 18, 2022: Ethan Nwareni, a 15-year-old midfielder, came into a match against Brentford FC as a substitute and became the youngest player in league history.
March 14, 2022: Club captain Alexandre Lacazette scored the 200th goal of his career in a win over Leicester City.
January 31, 2022: Arsenal picked up one player during the January transfer period, 23-year-old American defender Auston Trusty. Trusty will remain with his MLS team, the Colorado Rapids, until June.
February 25, 2021: Arsenal defeated Portuguese powerhouse Benfica 3–2 to advance to the Round of 16 in the UEFA Europa League tournament. French star Pierre-Emerick Aubameyang scored twice in the victory.
August 1, 2020: Arsenal beat Chelsea 2–1 in the FA Cup final, with captain Pierre-Emerick Aubameyang named Man of the Match. The club had a so-so regular season but caught fire during the FA Cup. The Gunners won six matches in a row to take the championship.

April 27, 2018: Alexandre Lacazette scored on a header against Atletico Madrid. It was Lacazette's seventh goal in seven games after coming back from a knee injury.
April 20, 2018: Arsene Wenger announced he would retire after 21 years as the club's manager.
April 1, 2018: 2018—Henrikh Mkhitaryan was voted Arsenal Player of the Month for the second time in a row. The Armenian midfielder was acquired from Manchester United earlier in the year in a swap for Alexis Sanchez.
February 3, 2018: Midfielder Aaron Ramsey scored three goals in a 5–1 victory over Everton. It was the first hat trick of his career.
August 6, 2017: Arsenal defeated Chelsea on penalty kicks in the Community Shield, the traditional season-opening match for English football. The match was tied 1––1, and Arsenal bested Chelsea 4–1 on penalty kicks.
May 27, 2017: Arsenal defeated Chelsea 2–1 to win the FA Cup final for a record 13th time. Alexis Sanchez and Aaron Ramsey scored for the Gunners. Ramsey's header broke a 1–1 tie. Sanchez was named Man of the Match.
Arsenal plays in England's Premier League. The Premier League has 20 clubs. Each club plays 38 matches—one home and one away against each of the other 19 clubs. At the end of each season, the team with the best record is crowned champion. The teams with the worst record are moved down (or "relegated") to the English Football League Championship, the second-highest level of play. These teams are replaced by the top-finishing clubs in the English Football League Championship, which are promoted to the Premier League.

Every team in England is invited to enter the Football Association Challenge Cup, or FA Cup. It is soccer's oldest tournament. The FA Cup was first played in during the 1871–72 season. The tournament is held all season long. The final is played in Wembley Stadium.
More treasures from the author's collection!
Cliff Bastin — Forward
1929–1947
Cliff Bastin owned the team record with 178 goals until 1997. He was one of the fastest players of his era and would have had more goals were it not for World War II.

Liam Brady — Midfielder
1973–1980
No player in the 1970s played soccer with more grace or imagination than Liam Brady. He could shoot equally well with either foot, and drove opponents mad with his impossible passes and goals.

Tony Adams — Defense
1983–2002
Tony Adams's will to win lifted his team to many victories over the years. He became a star for Arsenal as a teenager and later was captain of the squad that won a "double" in 1993 (League Cup and FA Cup).

David Seaman — Goalkeeper
1990–2003
David Seaman was the difference between winning and losing in dozens of Arsenal matches. Fans still argue about which of his saves was the most amazing. Seaman was at his best when the club won the league title in 1991.

Patrick Vieira — Midfielder
1996–2005
Patrick Vieira was fast and fearless. He played his best in the biggest games, especially against arch-rival Manchester United. Vieira could launch attacks from his position, or stop attacks by opponents. He was truly an all-around player.

Freddie Ljungberg — Forward
1998–2007
Swedish-born Freddie Ljungberg was known for scoring big goals in big games. He was unstoppable at the end of the 2001–02 season, leading Arsenal to a Premier League title and FA Cup.

Robert Pires — Forward
2000–2006
Robert Pires was a master at "reading" the field. He saw chances to set up teammates before they knew it themselves. Pires was a solid scorer who could play several positions, including midfielder. He helped Arsenal win Premier League titles in 2002 and 2004, and also starred for the French national team.
Did You Know?
• On January 22, 1927, the match between Arsenal and Sheffield United was the first league match to be broadcast on the radio.
• The first Arsenal player to score 100 league goals was Jimmy Brain. He netted number 100 in 1928.
• On September 16, 1937, a game between Arsenal's first team and reserves was the first broadcast on television.
• In 1965, 17-year-old John Radford became the youngest player in club history to score a hat trick (3 goals in a game). In 1971, Radford set up Charlie George for the goal that won the FA Cup against Liverpool.
• Arsenal went undefeated during the 2003–04 Premier League season. The club had 26 wins and 12 draws (ties).
• In a 2006 match against Hamburger SV, Arsenal started 11 players from 11 different countries.