What's new with the Arizona Cardinals? That's what this page is all about.
The Team Spirit OVERTIME website begins where the Team Spirit books end.
That's because football never stands still … And I can never squeeze everything I want into 48 pages!
Scroll down for team updates, player profiles, and stats you won't find in the book. Click on the videos to the left to hear me talk about Team Spirit OVERTIME as well as my favorite players. And take a look below at some of the Cardinals collectibles I have in my home—pretty cool, right?
Enjoy this site, check back whenever you like, and contact me with any questions or comments.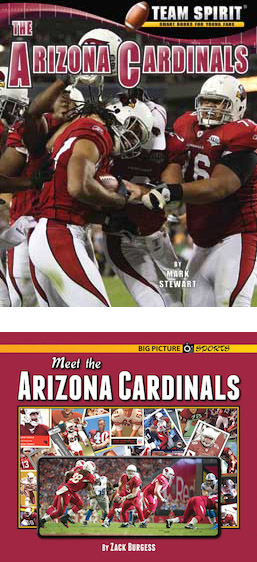 Updates
2022 Season
2022 Season Roundup: After some encouraging wins in September and October, the Cardinals' luck changed and in the second half and they lost their final seven games. Injuries kept several key players out for long stretches, including quarterback Kyler Murray, running back James Conner and receivers Marquise Brown and DeAndre Hopkins. Defensive back Budda Baker and lineman JJ Watt were game-changers on defense, but the team's offense never ran smoothly. Coach Cliff Kingsbury was fired at the end of the year.
2022 Season Preview: It is easy to overlook the Cardinals in a division they share with the 49ers and Rams. But the Cards have a winning lineup despite losing pass rusher Chandler Jones. Their big star is quarterback Kyler Murray, who got the team off to a 7–0 start last season. If he can come close to that again—and prove he is a true team leader—Arizona should be good enough to become the third playoff team in the NFC West.
2021 Season
2021 Season Roundup: The Cardinals finished with 11 wins in the tough NFC West, but did not survive their playoff battle with the Rams. It was a disappointing end to a good year for young quarterback Kyler Murray, who was picked to play in the Pro Bowl after throwing for 3,787 yards and 24 touchdowns. Running back James Conner was a touchdown machine for Arizona, scoring 18 times, while Christian Kirk led the Cards with 77 catches. The defense starred linebacker Chandler Jones and safeties Budda Baker and Jalen Thompson.
2021 Season Preview: Quarterback Kyler Murray guides a club with great skill and experience into 2021, with hopes of snagging a playoffs spot away from three excellent NFC West rivals. Murray and receiver DeAndre Hopkins should combine to give defenses nightmares, with help from do-it-all rookie Rondale Moore and running backs Chase Edmonds and James Conner. The defense, featuring Budda Baker and free agent JJ Watt, should be one of the better units in the NFC.
2020 Season
2020 Season Roundup: Kyler Murray followed his excellent rookie year with an even better season in 2020. With better blocking and more experience, Murray threw for 3,971 yards and 26 touchdowns. Murray also ran for 819 yards and 11 touchdowns—one of the best seasons ever for an NFL quarterback. Murray's prime target was newcomer DeAndre Hopkins, with 115 receptions. Christian Kirk and Larry Fitzgerald also put up good pass-catching numbers. The Cards finished 8–8, but could have won more. Their defense allowed under 23 points per game thanks to Budda Baker, Jordan Hicks, and Haason Reddick. Three of Arizona's losses were decided by a mere three points.
November 15, 2020: Kyler Murray set a record by running and throwing for touchdowns for the fifth game in a row. Arizona defeated the Buffalo Bills 32–30 on a desperate TD pass to DeAndre Hopkins, who was covered by three defenders. Fans instantly called it a "Hail Murray."
2020 Season Preview: Smart draft picks and a trade for superstar DeAndre Hopkins have Arizona fans excited about 2020. The Cardinals may not be a playoff pick, but they should be much better on offense and defense. Quarterback Kyler Murray will have fun throwing to Hopkins, while the Arizona D—led by sack specialist Chandler Jones— will continue to improve with the addition of rookie linebacker Isaiah Simmons.
2019 Season
February 1, 2020: Kyler Murray was named Offensive Rookie of the year for 2019. He threw for 3,722 yards and was named Offensive Player of the Week for Week 6, in October.
2019 Season Roundup: Rookie Kyler Murray showed he could be an NFL superstar, but he also looked like rookie a bit too often in a 5-win season for Arizona. The Cardinals needed a big playmaker to pair with Murray and Larry Fitzgerald, at 36, is not that kind of star anymore. On defense, the team had All-Pro sack specialist Chandler Jones at linebacker and hard-hitting Budda Baker at safety, but still gave up more than 27 points per game.
September 29, 2019: Larry Fitzgerald moved into second place behind Jerry Rice on the all-time reception list. Fitzgerald passed Tony Gonzalez with his 1,326th catch.
2019 Season Preview: Nothing worked for the Cards in 2018, so they have handed the reins to a new coach, Cliff Kingsbury, and a rookie quarterback, Kyler Murray. Murray has plenty of good targets to choose from, including future Hall of Famer Larry Fitzgerald. Arizona fans hope Murray can have the kind of
2018 Season
2018 Season Roundup: Arizona's three wins were the fewest in the league. One of those came against the Packers in Green Bay, but that was the lone bright spot. Rookie Josh Rosen threw more interceptions than touchdowns, but showed great promise and maturity. David Johnson and Larry Fitzgerald were the stars on offense, while Patrick Peterson and Chandler Jones led a defense that played below its potential.
2018 Season Preview: New coach Steve Wilks has two talented quarterbacks to play with: veteran Sam Bradford and #1 draft pick Josh Rosen. If Bradford gets all the starts, the Cards could challenge for a Wild Card berth. If WIlks hands the job to Rosen, it may signal a rebuilding year. The defense, led by cornerback Patrick Peterson and sack specialist Chandler Jones, should keep Arizona in games, but scratching out more than 7 or 8 wins will take a huge year from the other nine guys on D.
2017 Season
2017 Season Roundup: The Cardinals failed two win twice in a row until the final two weeks of the season, and by then it was too late. They finished 8–8 despite having a solid defense and a 109-catch season from the remarkable Larry Fitzgerald. Three different quarterbacks started for Arizona, which scored more than three touchdowns just once during the year.
December 3, 2017: Larry Fitzgerald became the fastest player to reach 1,200 pass receptions when he caught 10 balls against the Rams. It was Fitzgerald's 214th game. Jerry Rice held the old record, reaching 1,200 in 221 games.
October 8, 2017: Larry Fitzgerald caught a pass for the 20oth game in a row. Only Jerry Rice and Tony Gonzalez had longer streaks.
2017 Season Preview: Some experts are picking running back David Johnson to have an MVP season. If opponents get stretched trying to defend against Arizona's speedy receivers, Johnson could very well have a monster year. For the Cardinals to return to the Super Bowl, QB Carson Palmer will have to stay on the field, and the pass defense—led by Tyrann Mathieu and Patrick Peterson—will need to create turnovers.
2016 Season
2016 Season Roundup: A season of high hopes ended with a 7–8–1 record after injuries slowed the team's offense. Running back David Johnson and receiver Larry Fitzgerald had outstanding years, but they weren't enough to overcome a 1–3 start.
2016 Season Preview: After a team-record 13 wins and a trip to the NFC title game, the Cardinals are being picked by many experts as a Super Bowl favorite. Veteran Carson Palmer leads an offense that includes young running back David Johnson and star receivers Larry Fitzgerlad and Michael Floyd. Arizona's defense improves with the signing of pass-rusher Chandler Jones and a defensive backfield led by Patrick Peterson.
2015 Season
December 6, 2015: Larry Fitzgerald became the youngest player to catch 1,000 passes in his career. He broke the record held by Andre Johnson.
2015 Season Preview: Can Carson Palmer recover from knee surgery to lead the Cards to the playoffs? An improved running game should help. Defensive wizard Todd Bowles is now the coach of the Jets, so everyone will be watching the Arizona D closely this year.
2014 Season
September 1, 2014: Carson Palmer has plenty of weapons and a solid front line n 2014, which has many Arizona fans predicting a 5,000-yard season for the veteran quarterback. Andre Ellington is a good runner and Larry Fitzgerald is an all-world receiver. However, Patrick Peterson and the Arizona defense may have taken a step backward from 2013.
2013 Season
September 4, 2013: Arizona has the bad luck to be in a division with three rising teams. The Cardinals should be better in 2013, too, thanks to new quarterback Carson Palmer. However, they will need career years from players such as Calais Campbell, Rashard Mendenhall, and Larry Fitzgerald to bounce back from 11 losses in their last 12 games in 2012.
2012 Roundup
February 2, 2013: The Cardinals surged to a 4–0 start in 2012, but struggled the rest of the way. A season-ending injury to Kevin Kolb started a chain reaction that resulted in a 5–11 record and the firing of coach Ken Whisenhunt.
Summer, 2012: The Cardinals were in a ton of close games last year and made some amazing fourth-quarter comebacks. This year their quarterback, Kevin Kolb, is healthy and he has a new target in Michael Floyd. It would not be a shock to see Arizona return to the playoffs.
Paul Christman — Quarterback
Born: 3/5/1918
Died: 3/2/1970
Played for Team: 1945 to 1950
"Pitchin' Paul" Christman did not have the talent of other NFL passers, but he was a smart and capable quarterback who led the Cardinals to two championship games. After retiring, Christman announced American League Football games on TV. He was one of the announcers for the first Super Bowl.

Mal Kutner — Receiver
Born: 3/27/1921
Died: 6/5/2005
Played for Team: 1946 to 1950
Although the Cardinals were famous for their "Million Dollar Backfield" in the 1940s, the player who made the difference in many close games was Mal Kutner. He was the NFL's top rookie in 1946 and its MVP in 1948, when he led the league in receiving yards for the second year in a row.

Jim Bakken — Kicker
Born: 11/2/1940
Played for Team: 1962 to 1978
The Cardinals didn't score a lot of touchdowns during the 1960s and 1970s, but thanks to Jim Bakken, they made a lot of field goals. In 1967, he attempted nine in a game and made seven to set an NFL record. Later that year, he kicked six in a game. It was no surprise when he led the league with a total of 27 and was the NFL's top scorer with 117 points.

Ottis Anderson — Running Back
Born: 1/19/1957
Played for Team: 1979 to 1986
The Cardinals weren't a winning team when Ottis Anderson played for them. If they had been, Anderson would probably be in the Pro Football Hall of Fame. He was an All-Pro his rookie year and gained over 1,000 yards five times from 1979 to 1984.

Neil Lomax — Quarterback
Born: 2/17/1959 Played for Team: 1981 to 1988
Neil Lomax could throw touchdown passes from anywhere on the field. He had a powerful arm and great confidence in his abilities. When Lomax was healthy, there was no stopping him. In 1987, he led the NFL with 275 completions and 3,387 passing yards.

Jake Plummer — Quarterback
Born: 12/19/1974
Played for Team: 1997 to 2002
Jake "The Snake" Plummer would wriggle away from oncoming pass-rushers to strike at the heart of opposing defenses. He was as daring as he was talented. In 1998, Plummer led the Cardinals to their first playoff victory in 41 years when they beat the Dallas Cowboys 20–7.

Anquan Boldin — Receiver
Born: 10/3/1980
Played for Team: 2003 to 2009
Anquan Boldin got off to a faster start than any receiver in NFL history when he gained 217 yards in his first game as a Cardinal. He finished with 101 receptions that season. In 2005, he and Larry Fitzgerald became the third pair of teammates to have 100-catch seasons. In 2008, Boldin, Fitzgerald, and Steve Breaston each finished the year with more than 1,000 receiving yards.
POWER PLAY
When the Cardinals moved from Chicago to St. Louis in 1960, it was not just to win new fans. The NFL also wanted to keep the upstart American Football League from moving into St. Louis.

GRIN AND BEAR IT
In 1932, the Cardinals were purchased by Charley Bidwill, who was a vice president for the Chicago Bears. The Bidwill family has owned the team ever since.

STATE OF GRACE
Cardinals running back Jim Otis attended Ohio State University before starting his NFL career. That was no surprise to the Otis family. Jim's dad had been a college roommate and close friend of Woody Hayes, the Buckeyes' head coach. The legendary coach taught Otis well. In 1975, he became just the second Cardinal to rush for 1,000 yards in a season.
RUSHING YARDS
1935 — Doug Russell — 499 (as a member of the Chicago Cardinals)

RECEIVING YARDS
1937 — Gaynell Tinsley — 675 (as a member of the Chicago Cardinals)
1984 — Roy Green — 1,555 (as a member of the St. Louis Cardinals)
1987 — J.T. Smith — 1,117 (as a member of the St. Louis Cardinals)
2001 — David Boston — 1,598

PASSING YARDS
1964 — Charley Johnson — 3,045
1987 — Neil Lomax — 3,387

RUSHING TDs
No Cardinal has led the NFL in rushing touchdowns.

RECEIVING TDs
1948 — Mal Kutner — 14 (tied for NFL lead as a member of the Chicago Cardinals)
1950 — Bob Shaw — 12 (as a member of the Chicago Cardinals)
1960 — Sonny Randle — 15
1975 — Mel Gray — 11 (tied for NFL lead)
1983 — Roy Green — 14
2008 — Larry Fitzgerald — 12 (tied for NFL lead)
2009 — Larry Fitzgerald — 13 (tied for NFL lead)

PASSING TDs
No Cardinal has led the NFL in passing touchdowns.

POINTS
1948 — Pat Harder — 110 (as a member of the Chicago Cardinals)
1949 — Pat Harder — 102 (tied for NFL lead as a member of the Chicago Cardinals)
1967 — Jim Bakken — 117 (as a member of the St. Louis Cardinals)

INTERCEPTIONS
1941 — Marshall Goldberg — 7 (tied for NFL lead as a member of the Chicago Cardinals)
1949 — Bob Nussbaumer — 12 (as a member of the Chicago Cardinals)
1954 — Dick "Night Train" Lane — 10 (as a member of the Chicago Cardinals)
1956 — Lindon Crow — 11 as a member of the Chicago Cardinals)
1960 — Jerry Norton — 10 (tied for NFL lead as a member of the St. Louis Cardinals)
1966 — Larry Wilson — 10 (as a member of the St. Louis Cardinals)

SACKS
2017 — Chandler Jones — 17.0
Playing for the Championship-Chicago Cardinals
| SEASON | GAME | OPPONENT | SCORE |
| --- | --- | --- | --- |
| 1947 | NFL Championship | Philadelphia Eagles | Won 28–21 |
| 1948 | NFL Championship | Philadelphia Eagles | Lost 7–0 |
Playing for the Championship-Arizona Cardinals
| SEASON | GAME | OPPONENT | SCORE |
| --- | --- | --- | --- |
| 2008 | NFC Championship | Philadelphia Eagles | Won 32–25 |
| 2008 | Super Bowl XLIII | Pittsburgh Steelers | Lost 27–23 |
| 2015 | NFC Championship | Carolina Panthers | Lost 49–15 |