What's new with the Atlanta Falcons? That's what this page is all about.
The Team Spirit OVERTIME website begins where the Team Spirit books end.
That's because football never stands still … And I can never squeeze everything I want into 48 pages!
Scroll down for team updates, player profiles, and stats you won't find in the book. Click on the videos to the left to hear me talk about Team Spirit OVERTIME as well as my favorite players. And take a look below at some of the Falcons collectibles I have in my home—pretty cool, right?
Enjoy this site, check back whenever you like, and contact me with any questions or comments.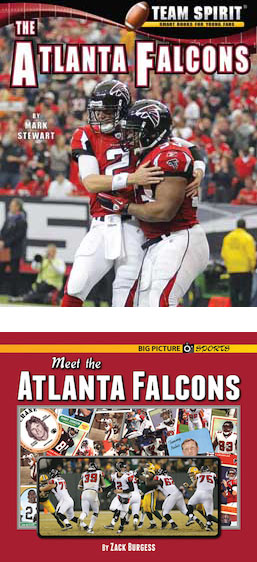 Updates
2022 Season
2022 Season Roundup: The Falcons missed the playoffs but played exciting football and won a lot of close games: including their first-ever victory over Tom Brady. Marcus Mariota did a good job in place of Matt Ryan at quarterback, while rookie Tyler Allgeier ran for more than 1,000 yards. Another rookie, Drake London, led Atlanta with 72 catches and 866 receiving yards. The Falcons were better on offense than defense, allowing 386 points, the 10th most in the NFL.
November 20, 2022: Cordarrelle Patterson ran a kickoff back 103 yards against the Bears. It was the ninth time in his career that he returned a kick for a score—more than anyone else in history.
2022 Season Preview: Marcus Mariota spent two years on the bench with the Raiders and now he begins the year as Atlanta's starting quarterback. He will be throwing to two of the NFL's exciting young stars, Kyle Pitts and Drake London. Mariota may just be keeping the job warm for Desmond Ridder, who Atlanta fans believe is their quarterback of the future. The team's defense could use more standout players like AJ Terrell if Falcons hope to win more than a half-dozen games in 2022.
2021 Season
2021 Season Roundup: Atlanta's offense and defense struggled most of the year, but when they played well together the Falcons looked pretty good. They finished 7–10 but somehow went the entire year without winning twice in a row. Matt Ryan did not have great wide receivers and ended up depending on tight end Kyle Pitts more than he would have liked. Still, Ryan threw for nearly 4,000 yards. The Atlanta defense depended on the play of linebackers Deion Jones and Foyesade Olukun, but did not put enough pressure on enemy quarterbacks.
October 10, 2021: Matt Ryan threw for 342 yards in a win over the Jets. Ryan became just the seventh player to throw for more than 5,000 yards in his career.Matt Ryan threw for 342 yards in a win over the Jets. Ryan became just the seventh player to throw for more than 5,000 yards in his career.
September 26, 2021: Matt Ryan threw a short scoring pass against the Giants to become only the 10th player in history with 350 career touchdown passes.
2021 Season Preview: Matt Ryan had a season for the ages in 2020 and Atlanta fans are counting on him to do it again in 2021. Julio Jones is gone, but his replacement—first-round pick Kyle Pitts—looks like he could be a game-changer for the Falcons. Another game-changer, All-Pro Cordarrelle Patterson, should make opponents' kickoffs exciting. The only problem is that there may be way too many of those kickiffs; Atlanta's defense is not good at keeping other teams off the scoreboard.
2020 Season
2020 Season Roundup: The Falcons were a much better team in 2020 than their 4–12 record. Matt Ryan put on a passing clinic with help from receivers Calvin Ridley, Russell Gage, and Hayden Hurst. Unfortunately, Julio Jones was hurt for half the season and veteran running back Todd Gurley was not the game-changer Atlanta hoped he would be. Eight of the team's 12 losses could easily have been victories, but that doesn't count in the NFL.
December 20,2020: Kicker Younghoe Koo became the second Korean-born player to be picked to play in the Pro Bowl. Hines Ward of the Steelers was the first, in 2001.
October 18, 2020: Todd Gurley scored the 75th touchdown of his career in just his 78th game. Since 1970, only LaDainian Tomlinson and Emmitt Smith reached 75 faster.
2020 Season Preview: Atlanta fans watched their team struggle against the pass, and also have problems stopping the pass rush last year. The Falcons should be better in both areas in 2020, which is good news for quarterback Matt Ryan, who was often running for his life in 2019. Todd Gurley joins the team as the main running back, while Julio Jones should continue to be the NFC's top receiver. The defense stars Grady Jarrett, Deion Jones and rookie defensive back AJ Terrell.
2019 Season
2019 Season Roundup: Atlanta fans could not believe it when their team had just one victory at the midpoint of the 2019 season. The Falcons recovered to capture six more games—including road wins over the 49es and the Saints. Matt Ryan threw for 26 touchdowns under constant pressure, while Julio Jones and Austin Hooper combined to catch 174 passes and make the Pro Bowl.
December 8, 2019: Matt Ryan moved into 10th place on the all-time passing list and also reached 50,000 career yards in a victory over the Panthers.
2019 Season Preview: One injury after another—especially on defense—kept the Falcons from taking off in 2018. Matt Ryan, Julio Jones & Co. should continue to put points on the board, so the question in 2019 is whether stars like linebacker Deion Jones can stay healthy, and whether Atlanta's coverage men can do better against the pass.
2018 Season
2018 Season Roundup: Atlanta finished strong with three wins in a row, but were out of the playoff picture with a 7–9 record. Injuries to key players and a defense that did not play up to its potential doomed the club. Matt Ryan put up huge numbers as usual, and Julio Jones topped 100 catches. Three other Falcons caught more than 50 passes.
November 11, 2018: Julio Jones reached 10,000 receiving yards in just his 104th NFL game. The fastest player to reach 10,000 before him was Calvin Johnson, in 115 games.
2018 Season Preview: The Falcons have as much talent in 2018 as the team that went to the Super Bowl two years ago. Receiver Julio Jones has a new running mate in rookie Calvin Ridley, and the team's backfield dup of Devonta Freeman and Tevin Coleman is as good as any in the NFL. Quick linebackers, power pass rushers and solid defensive backs make the Falcons scary on both sides of the football.
2017 Season
2017 Season Roundup: It took the defending NFC champions until Thanksgiving to find their rhythm—just in time to snag the final spot in the playoffs. They beat the Rams in the Wild Card game but lost to the Saints to end their season. QB Matt Ryan had another solid season, receiver Julio Jones made the Pro Bowl, and running backs Devonta Freeman and Tevin Coleman combined for 16 touchdowns.
November 12, 2017: Adrian Clayborn set a team record with six sacks against the Cowboys. He forced two fumbles and recovered one. Quarterback Matt Ryan reached 40,000 passing yards in the same game.
2017 Season Preview: Atlanta fans still cannot believe their Falcons lost the Super Bowl. To return to the big game, the team will need to give QB Matt Ryan more playmakers than just Julio Jones. Devonta Freeman and Tevin Coleman may provide those weapons, especially when they are on the field at the same on passing downs. The Atlanta D improved tremendously during 2016 and should be solid for 2017.
2016 Season
2016 Season Roundup: The Falcons won 11 games behind the passing of NFL MVP Matt Ryan and receiving of Julio Jones. The team's defense, led by pass rusher Vic Beasley, stepped up during the playoffs as Atlanta defeated the Seahawks and Packers to reach the Super Bowl for the first time in 18 seasons.  The Falcons built a 28–3 lead over the Patriots, but could not hold on. New England tied the score and won the game 34–28 in overtime.
2016 Season Preview: Atlanta fans can look forward to a happier 2016 after a dreadful finish in 2015 bumped the Falcons out of the payoffs. While Roddy White is gone, the offense still has superstars Matt Ryan, Julio Jones and Devonta Freeman—plus a solid offensive line—to put points on the board. The defense is still shaky, however. The Falcons hope things get sorted out sooner rather than later.
2015 Season
January 3, 2016: Julio Jones caught 9 passes for 149 against the Saints to finish tied for the NFL lead with 136 receptions. He led the league with 1,871 yards.
September 27, 2015: Julio Jones set a record for the first three games of a season with 34 catches.
2015 Season Preview: Matt Ryan is the man who powers the Atlanta offense. He's one of the best QBs in the NFL. If he and Julio Jones get a little help in 2015, the Falcons will be tough to beat. They have one of the softest schedules in the league.
2014 Season
September 18, 2014: Devin Hester scored on a punt return against the Buccaneers to set a new NFL record with his 20th punt/kickoff return for a touchdown. He broke the record of 19 that he shared with Hall of Famer Deion Sanders.
September 1, 2014: With all-time great Tony Gonzalez retired, quarterback Ryan will be throwing to Julio Jones more often. A rebuilt line should give him the extra time he needs. Will the defense improve over a disappointing 2013 season? That will depend on one or two pass-rushers stepping up and raising their games.
2013 Season
December 154, 2013: Tony Gonzalez became the first tight end ever to reach 15,000 career receiving yards. The four other players with 15,000 yards were all wide receivers.
September 4, 2013: Will this be the year Matty Ice takes the Falcons all the way to the Super Bowl? They came close last season. The offense has the power to roll over any opponent, with receivers Julio Jones, Roddy White, and Tony Gonzalez. Now they have added veteran runner Steven Jackson. Much will depend on the defense to make key stops in high-scoring games.
2012 Roundup
February 2, 2013: The Falcons had the best record in the NFC for the second time in three season with a 13–3 mark. They built big leads in the playoffs against the Seahawks and 49ers, but allowed both teams to make comebacks in the 2nd half. Atlanta hung on to beat Seattle 30–28 but lost to San Francisco in the NFC Championship 28–24.
Summer, 2012: The bottom line for the Falcons is that making it to the playoffs is no longer good enough. They must keep winning in the postseason. In 2012, Matt Ryan will have two Grade A targets in Roddy White and second-year star Julio Jones. If Michael Turner can make it through the season without wearing out, Atlanta could be looking at a return trip to the Super Bowl.
George Kunz — Offensive Lineman
Born: 7/5/1947
Played for Team: 1969 to 1974
The Falcons made George Kunz the second player picked in the 1969 draft, after O.J. Simpson. He was an All-Pro twice for the Falcons before finishing his career with the Baltimore Colts.

Bill Fralic — Offensive Lineman
Born: 10/31/1962
Played for Team: 1985 to 1992
Like George Kunz years before, Bill Fralic was taken with the second overall pick in the draft, right after Bruce Smith. Fralic was a starter as a rookie and was named an All-Pro in his second and third seasons in the league. After his NFL career, Fralic became an important voice in the effort to ban steroids and other drugs from football.

Jamal Anderson — Running Back
Born: 9/30/1972
Played for Team: 1994 to 2001
More than any single player, Jamal Anderson was responsible for the Falcons' run to the Super Bowl in 1998. He was a one-man wrecking crew, carrying or catching the ball 437 times and scoring 16 touchdowns. The heavy workload shortened his career but made him a hero forever in the hearts of Atlanta fans.

Ray Buchanan — Defensive Back
Born: 9/29/1971
Played for Team: 1997 to 2003
Ray Buchanan's fine play as a cornerback was a big reason the Falcons were NFC champs in 1998. He was known as "Big Play Ray" for making tackles and interceptions with the game on the line.

Keith Brooking — Linebacker
Born: 10/30/1975
Played for Team: 1998 to 2008
By the end of his rookie season, Keith Brooking was one of the key players on the Falcons. The Minnesota Vikings learned this the heard way, when Brooking had eight tackles in the NFC Championship Game to help Atlanta reach the Super Bowl. He went on to lead the team in tackles each year from 2001 to 2006.

Alge Crumpler — Receiver
Born: 12/23/1977
Played for Team: 2001 to 2007
Alge Crumpler wasn't as tall as other NFL tight ends, but he was a four-time Pro Bowl pick thanks to his toughness and pass-catching kills. Crumpler caught 40 or more passes for Atlanta five years in a row.
JUNIOR ACHIEVER
The Falcons leading runner in their first two seasons was Junior Coffey. In 1966, he ran for 722 yards in 14 games, scored four rushing touchdowns, and caught one touchdown pass. Coffey must have liked those numbers. In 1967, he ran for 722 yards in 14 games, scored four rushing touchdowns, and caught one touchdown pass.

FIRST RATE FLINGERS
The statistic used to measure a quarterback's performance is a complicated formula called Quarterback Rating. The highest score possible in a game is 158.3. Fewer than 40 players have had a "perfect score" in a game, but a record five of them are Falcons—Bobby Hebert (1993), Steve Bartkowski (1984), Scott Hunter (1976), Bob Lee (1973), and Dick Shiner (1973). One week after Shiner's perfect game, he failed to complete a single pass!

FOOTBALL FAMILY
Tight end Alge Crumpler was one of two NFL siblings. His older brother, Carlester Jr., played for the Seattle Seahawks and Minnesota Vikings in the 1990s. Their dad, Carlester Sr., had a brief NFL career in the 1970s. Alge was named after the main character in the children's book, Flowers for Algernon.
RUSHING YARDS
No Falcon has led the league in rushing yards.

RECEIVING YARDS
1981 — Alfred Jenkins — 1,358
2015 — Julio Jones — 1,871
2018 — Julio Jones — 1,677

RECEPTIONS
2015 — Julio Jones — 136

PASSING YARDS
No Falcon has led the league in passing yards.

RUSHING TDs
2015 Devonta Freeman — 11

RECEIVING TDs
1981 — Alfred Jenkins — 13 (tied for NFL lead)
1993 — Andre Rison — 15 (tied for NFL lead)

PASSING TDs
1980 — Steve Bartkowski — 31

POINTS
2016 — Matt Bryant — 158


INTERCEPTIONS
1988 — Scott Case — 10
2018 — Damontae Kazee — 7 (tied with 2 others)

SACKS
2016 — Vic Beasley — 15.5
Playing for the Championship
| SEASON | GAME | OPPONENT | SCORE |
| --- | --- | --- | --- |
| 1998 | NFC Championship | Minnesota Vikings | Won 30–27 (OT) |
| 1998 | Super Bowl XXXIII | Denver Broncos | Lost 34–19 |
| 2004 | NFC Championship | Philadelphia Eagles | Lost 27–10 |
| 2012 | NFC Championship | San Francisco 49ers | Lost 28–24 |