What's new with the Buffalo Bills? That's what this page is all about.
The Team Spirit OVERTIME website begins where the Team Spirit books end.
That's because football never stands still … And I can never squeeze everything I want into 48 pages!
Scroll down for team updates, player profiles, and stats you won't find in the book. Click on the videos to the left to hear me talk about Team Spirit OVERTIME as well as my favorite players. And take a look below at some of the Bills collectibles I have in my home—pretty cool, right?
Enjoy this site, check back whenever you like, and contact me with any questions or comments about the Bills.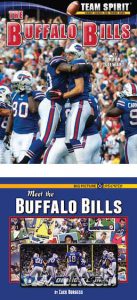 Updates
2022 Season
2022 Season Roundup: The Bills fans topped the AFC East for the second year in a row a record of 13–3. Quarterback Josh Allen was sensational, throwing for more than 4,000 yards and 35 touchdowns. His favorite target, Stefon Diggs, caught 108 passes and a career-best 11 TD passes. Veteran linebacker Von Miller led a defense that was the second-best in the NFL and included All-Pro linebacker Matt Milano and safety Jordan Poyer. The Bills hadn't lost a game in 10 weeks when they faced the Bengals in the second round of the playoffs. After allowing two quick touchdowns, the were unable to fight their way back and their season ended with a 27–10 loss.
January 02, 2023: Following a hard tackle, defensive back Damar Hamlin went into cardiac arrest and needed CPR to restart his heart. Hamlin woke up in the hospital two days later and wanted to know if the Bills had won the game. It had been cancelled out of respect for Hamlin and his teammates. A week later, Hamlin walked out of the hospital.
2022 Season Preview: Buffalo fans who thought their team should have made it to the Super Bowl last year have even more reason to hope for a championship in 2022. The team is better all-around and also deeper at many important positions. Quarterback Josh Allen is one of the best in the business, and the Bills have added college star James Cook to their group of running backs. The Buffalo D should be even stronger this season, especially against the pass.
2021 Season
2021 Season Roundup: The Bills finished their season with four wins in a row to capture the AFC East title, and then destroyed the Patriots in their first playoff game. Buffalo looked like a sure bet to reach the conference championship a week later until the Chiefs scored a stunning comeback victory. The loss caused many fans to forget how well their team played in 2021—especially quarterback Josh Allen, who threw for 36 touchdowns and ran for 6 more. Stefon Diggs was Allen's favorite target and Devin Singletary did a fine job at running back. The defense was the Bills' greatest strength, holding opponents to 17 points per game. Micah Hyde and Jordan Poyer tied for the team lead in interceptions.
December 12, 2021: The Bills lost in overtime to the Buccaneers, but Buffalo quarterback Josh Allen became just the fourth player in history to run for 100 yards and throw for 300 in the same game.
2020 Season
2020 Season Roundup: The Bills put it all together in 2020 thanks to quarterback Josh Allen and a defense that made stops when it had to. Allen threw for 4,544 yards and 37 touchdowns as Buffalo scored 502 points—second-most in the NFL. Receiver Stephon Diggs had an All-Pro season with 127 catches, while Tremaine Edmunds, AJ Klein, and Tre'Davious White were standouts on defense. The Bills won the division and reached the AFC title game, but lost 38–24 to the Chiefs.
2020 Season Preview: The name of the game in Buffalo for 2020 will be defense. When the Bills tackle you, you know it. Jerry Hughes leads a great pass rush and Tre'Davious White will be assigned to cover the other team's best receiver. The difference between a so-so season and a playoff run, however, may come down to quarterback Josh Allen. He will need to be more accurate to keep his team's drives alive.
2019 Season
2019 Season Roundup: Buffalo turned around its 6–10 record in 2018 to finish 10­–6 in 2019. The Bills had the makings of a playoff run when they opened a 16–0 lead over the Texans in the Wild Card game, but Houston came back to win in overtime. The Bills had the NFL's number-two defense, led by linebacker Tremaine Edmunds and interception specialist Tre'Davious White.
November 24, 2019: Frank Gore ran for 65 yards in a win over the Broncos to pass Barry Sanders for third place on the all-time rushing list. Only Walter Payton and Emmitt Smith are ahead of him.
September 29, 2019: Frank Gore broke six tackles for a 41-yard gain against the Patriots, which put him over 15,000 yards for his career. The only players to reach that mark are Emmitt Smith, Walter Payton, and Barry Sanders.
2019 Season Preview: The Bills spent a big part of their off-season budget bringing in players to help QB Josh Allen be successful. The offensive line is deep and talented, as is the entire defense—which added rookie star Ed Oliver in the draft. Buffalo should win the close games this season, especially if newcomers Frank Gore and Devin Singletary give LeSean McCoy an occasional breather at running back.
2018 Season
2018 Season Roundup: Buffalo took a step backwards after their fine 2017 season and finished 6–10 in 2018. The problem was the offense; the Bills scored fewer than 10 points five different times. Rookie QB Josh Allen looked good at times, but an elbow injury ended his season early. Too often he was flushed out of the pocket and had to run for his life.
2018 Season Preview: It will take a good running attack to beat Buffalo in 2018. The team's pass defense is much improved and free agent defensive tackle Star Lotulelei will be clogging up the middle. The person most likely to make headlines for the Bills is rookie quarterback Josh Allen. He is big and fast, and has a bazooka for an arm. Running backs Chris Ivory and LeSean McCoy will give Allen lots of options as he learns his way around the league.
2017 Season
2017 Season Roundup: The Bills started strong and finished strong, and that was enough to give them nine wins and a berth in the playoffs. LeSean McCoy led Buffalo with 1,000 rushing yards and 59 receptions. Safeties Micah Hyde and Jordan Poyer picked off 10 passes to lead the defense.
December 31, 2017: Buffalo's victory over Miami on the season's final day sent the Bills to the playoffs to the playoffs for the first time in 17 years. They were the only team that hadn't made it to the postseason in the 21st century.
2017 Season Preview: New coach Sean McDermott will try to fix the mistakes that knocked the Bills out of the playoffs in the final month of 2016. Is QB Tyrod Taylor the problem or the solution? That may be the biggest question heading into 2017.
2016 Season
2016 Season Roundup: Buffalo fans had been waiting since 2000 for their team to make the playoffs in 2016. They had to wait another year as the team finished 7–9. The Bills actually had a winning record heading into December, but lost four of their final five games. Quarterback Tyrod Taylor spent the year running for his life and was sacked 42 times. Coach Rex Ryan was fired in the final week. LeSean McCoy had better luck. He ran for 1,267 yards and scored 14 touchdowns.
2016 Season Preview: Tyrod Taylor had a sensational year at quarterback for Buffalo in 2015, as did Sammy Watkins at receiver. If the Bills can get big years out of runners LeSean McCoy and Karlos Williams, they could be tough to beat in 2016. The key—on offense and defense—will be consistent play from week to week. The Bills hope they can count on
2015 Season
2015 Season Preview: Tyrod Taylor is a great athlete, but can he be a winning NFL quarterback? New coach Rex Ryan hopes Buffalo's powerhouse defense will give him enough time to find out. In the meantime, LeSean McCoy will be counted upon
2014 Season
September 2, 2014: Buffalo fans wanted quarterback E.J. Manuel to throw more in 2013. They will get their wish in 2014 with the addition of super rookie Sammy Watkins. The defense needs to get better and follow the lead of stars Mario Williams and Marcel Dareus—and Manuel will have to stay healthy—if Buffalo hopes to challenge for the division crown.
2013 Season
September 4, 2013: No Buffalo team has ever undergone the changes that the 2013 Bills have. They have a new head coach (Doug Marrone) and a new quarterback (rookie E.J. Manuel), plus a new offensive coordinator and a new defensive coordinator. It may take a while for everything to come together, but if the Bills get big years from speedy running back C.J. Spiller and sure-handed receiver Stevie Johnson, they could make things very interesting in the AFC East.
2012 Roundup
February 2, 2013: Receiver Stevie Johnson and running back C.J. Spiller turned in 1,000-yard seasons, but it was not enough to get the Bills in the playoffs. They finished 6–10, third in the AFC East.
Summer, 2012: After an amazing start to the 2011 season, the Bills slumped in the second half after Ryan Fitzpatrick and Fred Jackson were injured. If these stars stay healthy and the defense continues to improve, all the Bills need to do is prove they can beat the top teams when it counts.
Mike Stratton — Linebacker
Born: 4/10/1941
Played for Team: 1962 to 1972
Mike Stratton was the leader of the Buffalo defense for more than a decade. He was a hard hitter who once played in 62 games in a row. Stratton's tackle of Keith Lincoln early in the 1964 AFL Championship Game was known as the "hit heard 'round the world." It knocked Lincoln out of the game, sparking the Bills to their first championship.

Tom Sestak — Defensive Lineman
Born: 3/9/1936
Died: 4/3/1987
Played for Team: 1962 to 1968
Tom Sestak was the most rugged defensive tackle in the AFL. He was a fearsome pass-rusher and one of the best at guessing an opponent's plays. "Big Ses" played most of his career with two injured knees and had to leave the sport before NFL fans got to see him play.

Joe DeLamielleure — Offensive Lineman
Born: 3/16/1951
Played for Team: 1973 to 1979 & 1985
Joe DeLamielleure was a key member of Buffalo's offensive line during 1970s when it was known as the "Electric Company." He helped open big holes for O.J. Simpson and also allowed very few sacks. DeLamielleure was voted All-Pro fo

Joe Ferguson — Quarterback
Born: 4/23/1950
Played for Team: 1973 to 1984
The Bills drafted Joe Ferguson in 1973, and he immediately became the team's starter as a rookie. Early in his career, his job was to hand the ball to O.J. Simpson and pass only when the Bills needed a big play. After two seasons, Buffalo learned that Ferguson could do much more. He tied for the NFL lead in touchdown passes in 1975 and topped the league in passing yards two years later.

Fred Smerlas — Defensive Lineman
Born: 4/8/1957
Played for Team: 1979 to 1989
Fred Smerlas was the anchor of the Bills' defensive line in the 1980s. He was voted to the Pro Bowl every year from 1980 to 1983 and again in 1988. Smerlas played nose tackle for most of his career and wrote a book about his life called By a Nose.

Eric Moulds — Receiver
Born: 7/17/1973
Played for Team: 1996 to 2005
In his rookie season, Eric Moulds returned a kickoff 97 yards for a touchdown. But he had to wait two years before getting his chance to make an impact as a receiver. In 1998, Moulds averaged more than 20 yards per catch and played in his first Pro Bowl. His best season came in 2002 when he had 100 receptions and scored 10 touchdowns.

Lee Evans — Receiver
Born: 3/11/1981
Played for Team: 2004 to 2010
Starting his first season with the Bills, Lee Evans proved he was one of the league's most explosive receivers. In 2006, he led the team with 1,292 receiving yards and eight touchdown catches. Each year from 2004 to 2008, he had at least one catch that went for more than 60 yards.
HEAD TO HEAD
During his career with the Bills, Joe DeLamielleure went head-to-head with Mean Joe Greene of the Pittsburgh Steelers four times. In these meetings between the top tackler and top blocker in the AFC, "Joe D." came out on top every time. Greene had a total of nine tackles and failed to get a single quarterback sack.

FOUR OF SIX
In 1973, the Bills opened the season with rookie Joe Ferguson as their starting quarterback. Ferguson led Buffalo to victory in four of the team's first six games—a feat no first-year player had ever accomplished. It took 35 years for another player to match that feat. Matt Ryan finally did it for the Atlanta Falcons in 2008.

LEE III
Lee Evans wore number 3 in college because his full name was Lee Evans III. When he joined the Bills, he knew there was a rule against receivers wearing that number so he asked for 83 instead. The problem was that had been Andre Reed's number. The Bills gave Evans special permission to wear 83.
RUSHING YARDS
1964 — Cookie Gilchrist — 981 (AFL)
1962 — Cookie Gilchrist — 1,096 (AFL)
1972 — O.J. Simpson — 1,251
1973 — O.J. Simpson — 2,003
1975 — O.J. Simpson — 1,817
1976 — O.J. Simpson — 1,503

RECEIVING YARDS
No Bill has led the league in receiving yards.

PASSING YARDS
1977 — Joe Ferguson — 2,803

RUSHING TDs
1962 — Cookie Gilchrist — 13 (tied for AFL lead)
1963 — Cookie Gilchrist — 12 (AFL)
1964 — Daryle Lamonica — 6 (tied for AFL lead)
1964 — Cookie Gilchrist — 6 (tied for AFL lead)
1965 — Wray Carlton — 6 (tied for AFL lead)
1973 — O.J. Simpson — 12
1975 — O.J. Simpson — 16

RECEIVING TDs
No Bill has led the league in receiving touchdowns.

PASSING TDs
1975 — Joe Ferguson — 25
1991 — Jim Kelly — 33

POINTS
1975 — O.J. Simpson — 138
1988 — Scott Norwood — 129


INTERCEPTIONS
1961 — Bill Atkins — 10 (AFL)
1967 — Tommy Janik — 10 (tied for AFL lead)
2019 — Tre'Davious White — 6

SACKS
1995 — Bryce Paup — 17.5
Playing for the Championship
| SEASON | GAME | OPPONENT | SCORE |
| --- | --- | --- | --- |
| 1964 | AFL Championship | San Diego Chargers | Won 20–7 |
| 1965 | AFL Championship | San Diego Chargers | Won 23–0 |
| 1966 | AFL Championship | Kansas City Chiefs | Lost 31–7 |
| 1988 | AFC Championship | Cincinnati Bengals | Lost 21–10 |
| 1990 | AFC Championship | Oakland Raiders | Won 51–3 |
| 1990 | Super Bowl XXV | New York Giants | Lost 20–19 |
| 1991 | AFC Championship | Denver Broncos | Won 10–7 |
| 1991 | Super Bowl XXVI | Washington Redskins | Lost 37–24 |
| 1992 | AFC Championship | Miami Dolphins | Won 29–10 |
| 1992 | Super Bowl XXVII | Dallas Cowboys | Lost 52–17 |
| 1993 | AFC Championship | Kansas City Chiefs | Won 30–13 |
| 1993 | Super Bowl XXVIII | Dallas Cowboys | Lost 30–13 |