What's new with the Chicago Bears? That's what this page is all about.
The Team Spirit OVERTIME website begins where the Team Spirit books end.
That's because football never stands still … And I can never squeeze everything I want into 48 pages!
Scroll down for team updates, player profiles, and stats you won't find in the book. Click on the videos to the left to hear me talk about Team Spirit OVERTIME as well as my favorite players. And take a look below at some of the Bears collectibles I have in my home—pretty cool, right?
Enjoy this site, check back whenever you like, and contact me with any questions or comments.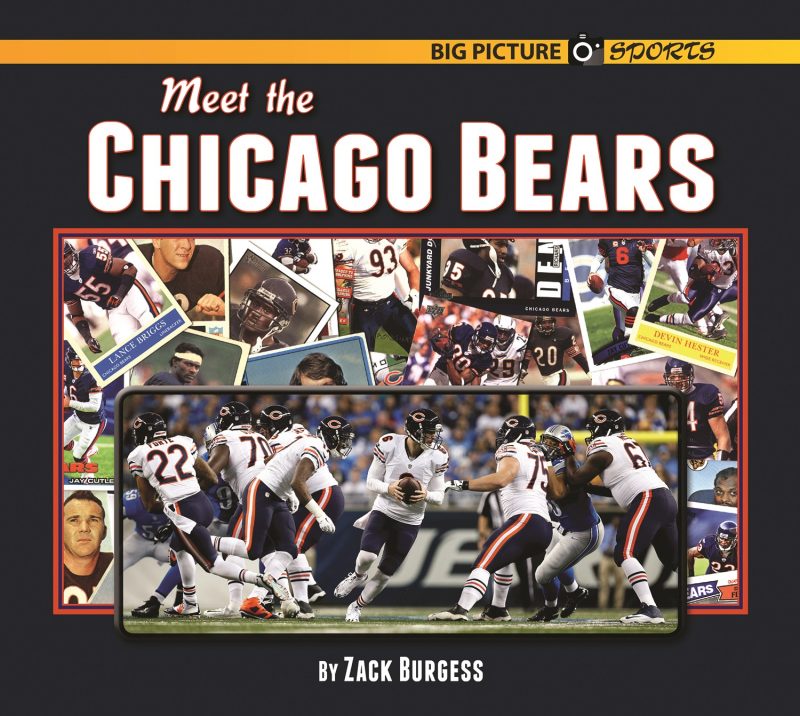 Updates
2022 Season
2022 Season Roundup: After a good start, the Bears set a team record with 10 losses in a row and lost 14 games in all to set another team record. In a season of bad news there was some good news, too. Quarterback Justin Fields ran for more than 1,000 yards and looked good in his second NFL season. Also, Chicago's three victories guaranteed them the #1 pick in the draft, which will help to rebuild the team. The Bears were no fun to defend, but the Chicago defense was the worst in the league, giving up 463 points.
December 18, 2022: Justin Fields became only the third quarterback to rush for 1,000 yards in a season in a win over the Bears. He gained 95 yards to finish with exactly 1,000.
November 6, 2022: Justin Fields set a new record when he ran for 178 yards against the Miami Dolphins. No quarterback had ever run for more yards in a game. H also threw for three touchdowns!
2022 Season Preview: Longtime Bears fans look at the team's lineup heading into 2022 and don't see any superstars, or even superstars-in-the-making. That does not mean they are short on talent. Injuries and inexperience held them back last season. If the team's key players stay healthy and Chicago's rookie defensive backs show they are ready to play, the Bears could be tough to score on. That will put the pressure on quarterback Justin Fields to step up and make game-winning plays in his second season as a starter.
2021 Season
2021 Season Roundup: Coach Mike Nagy assembled a promising offense for 2021, but the Bears didn't score and it cost him his job. Justin Fields had an up-and-down rookie year at quarterback, while veterans Andy Daulton and Nick Foles weren't any better when they went into the game. Linebackers Robert Quinn and Travis Gipson created plenty of havoc on defense, however the loss of their best linebacker—Khalil Mack—for more than half the season hurt Chicago, which lost 8 of 9 games in the middle of the year.
2021 Season Preview: The 2021 season will be a waiting game for Bears fans. They know veteran QB Andy Dalton will give way to high-powered rookie Justin Fields at some point. They also know the Chicago defense is going to make a lot of game-changing plays. The big questions are How and When? The Packers will be hard to catch in the NFC North, but a Wild Card spot is definitely within reach of Da Bears—especially if running back David Montgomery can repeat his 1,000-yard season and linebacker Khalil Mack stays on top of his game.
2020 Season
2020 Season Roundup: A winless November turned a promising year into a so-so 8–8 season for the Bears. Nick Foles and Mitchell Trubisky split quarterback duties, but neither could get the offense moving. The defense, led by Khalil Mack and Roquan Smith, looked good at times, but not all the time. The MVB (Most Valuable Bear) may have been special teams star Cordarrelle Paterson, who averaged nearly 30 yards per kick return. Allen Robinson also had a good year, with 102 receptions and 1,250 receiving yards.
November 16, 2020: Cordarrelle Patterson returned a kickoff 103 yards for a touchdown in a win over the Vikings. It was the longest return in team history and tied the NFL record of 8 TD kickoff returns.
September 27, 2020: The Bears beat the Falcons 30–26 after trailing 26–10 in the 4th quarter. Earlier in the year, Chicago came back to win after falling behind the Lions 23–6 in the final period. No team had ever made two bigger fourth-quarter comebacks in the same season.
2020 Season Preview: If the Chicago defense plays like it did in 2018 (and not 2019), fans in the Windy City will be watching playoff football in 2020. Khalil Mack is a force of nature on the defensive line, and he has solid support from Akiem Hicks and Robert Quinn. If the linebackers can stay healthy, the D should return to form. The offense has a lot of options, including running back Tarik Cohen, receiver Allen Robinson, and new tight ends Jimmy Graham and Cole Kmet. Quarterback Mitchell Trubisky has to show improvement this year. If he doesn't, Nick Foles is waiting in the wings to keep the offense moving.
2019 Season
2019 Season Roundup: Chicago had the talent to reach double-figures in wins, but finished 8–8 and missed the playoffs. Mitchell Trubisky was up-and-down at quarterback, and the Bears never clicked as a passing team or a running team. The star of the offense was Allen Robinson, who caught 98 passes. The most fun Bear to watch was Coradelle Patterson, who was sensational on special teams. Khalil Mack led a defense that allowed just over 18 points a game—fourth-best in the NFL.
December 5, 2019: Coradelle Patterson was named NFC Special Teams Player of the Month. In four games he returned kickoffs for a total of 294 yards, and also made four spectacular tackles covering punts.
2019 Season Preview: Chicago fell short of the playoffs in 2018 by a missed field goal. In 2019, the Bears return with the NFC's scariest defense—including a dynamic group of linebackers led by Khalil Mack. Quarterback Mitchell Trubisky leads an offense that features runner-receiver Tarik Cohen. Cohen must stay healthy, because the players behind him are largely unproven.
2018 Season
2018 Season Roundup: The Bears turned a 5–11 record into a 12–4 division championship behind great years from quarterback Mitchell Trubisky, linebacker Khalil Mack, and do-everything star Tarik Cohen. Chicago had the best defense in the NFL, featuring Pro Bowl picks Akiem Hicks, Kyle Fuller, and Eddie Jackson. The Bears had the most momentum of any team heading into the playoffs, but lost to the Eagles on a missed field goal.
2018 Season Preview: The Bears might surprise a lot of people after their disappointing 5-win 2017 season. Tarik Cohen and Jordan Howard are sneaky runners and the team's blockers know how to open up holes for them. They also can give young QB Mitchell Trubitsky time to operate on enemy defenses. Chicago's D is good against the pass with newcomer Khalil Mack and Akiem Hicks.
2017 Season
2017 Season Roundup: Fans had low expectations for the Bears heading into the season, but the defense gave them lots to cheer about. They allowed an average of under 14 points a game in December. On offense, Jordan Howard ran for more than 1,000 yards and rookie Mitch Trubisky took a step toward becoming Chicago's quarterback of the future.
October 22, 2017: In a 17–3 victory over the Carolina Panthers, Chicago's Eddie Jackson scored both touchdowns—one on a 76-yard interception return and the other on 75-yard run after recovering a fumble. The rookie safety was the first defensive player to score two touchdowns of 75 yards or more in the same game. Jackson was named Defensive Player of the Week.
2017 Season Preview: Questions at quarterback and a so-so group of receivers mean that running back Jordan Howard will be carrying a heavy load in 2017. Leonard Floyd leads a pass rush that must get to the quarterback more often in 2017, or another 3-win season could be the result.
2016 Season
2016 Season Roundup: The Bears hoped to improve on their six wins in 2015, but ended up with just three in 2016. They did not win a single road game, and much of the year was spent trying to replace their injured quarterback, Jay Cutler. Whatever cheering Chicago fans did was usually for rookie Jordan Howard. He went from third-string running back to team leader, with 1,313 rushing yards. That mark was second in the NFL and earned him an invitation to the Pro Bowl.
2016 Season Preview: The Bears made small improvements almost everywhere on the field heading into 2016. However, they will probably go only as far as Jay Cutler talented passing arm will take them. The Chicago pass rushers and linebackers also will have to make big plays this season if the team hopes to finish with a winning record. Newcomers Jerrell Freeman, Danny Trevathan and Akiem Hicks will need to be game-changers.
2015 Season
2015 Season Preview: The Bears plan to rebuild their team in 2015. Jay Cutler is a competitive quarterback, but he may not have the weapons to outscore opponents. The pressure will be on the defense to play near-perfect football.
2014 Season
December 28, 2014: Matt Forte caught his 102nd pass to set a new record for catches by a running.
October 12, 2014: The Bears became the first pro football team to win 750 games when they defeated the Atlanta Falcons 27–13.
September 1, 2014: The combination of QB Jay Cutler, running back Matt Forte and receiver Alshon Jeffrey gives Chicago a solid offense. The key to the Bears' season may be in its pass defense. While the defensive line has improved, there are still many questions about their cornerbacks and safeties.
2013 Season
September 4, 2013: Lots of question marks surround the Bears in 2013. How will they do without Brian Urlacher? Can new coach Marc Trestman get the offense jump-started? Can Jay Cutler stay healthy at quarterback? One thing the Bears can count on is exceptional special teams play. Nothing is more electrifying than watching Devin Hester receive a kick and start upfield.
2012 Season
February 2, 2013: The Bears were looking like champions midway through the 2012 season with a 7–1 record. But 5 losses in their next 6 games kept them out of the playoffs. The poor second half cost coach Lovie Smith his job.
November 4, 2012: In a game against the Tennessee Titans, the Bears became the first team to score TDs on a pass, run, interception and blocked punt in the same quarter.
October 7, 2012: Lance Briggs and Charles Tillman each returned an interception for a touchdown in a victory over the Jacksonville Jaguars. One week earlier, Briggs and Tillman also returned interceptions for scores against the Dallas Cowboys.
Summer, 2012: Injuries to Matt Forte and Jay Cutler late in the year ruined a fun season for the Bears. In 2012, Forte has a new running mate in Michael Bush and Cutler has a new target in Brandon Marshall. Everyone knows you can't run against Chicago, so if the Bears can stop the passing game, they could challenge the Green Bay Packers for the division title.
Joe Stydahar — Lineman
Born: 3/17/1912
Died: 3/23/1977
Played for Team: 1936 to 1946
Joe Stydahar was the first draft pick in team history. He used his massive size to open up holes for Chicago's running backs. Stydahar was an All-Pro six times from 1936 to 1942.

Bulldog Turner — Center/Linebacker
Born: 3/10/1919
Died: 10/30/1998
Played for Team: 1940 to 1952
Clyde "Bulldog" Turner was one of the NFL's best at two positions—center and linebacker. A running back in high school, he was small by pro football standards even 70 years ago. Turner used his quickness to make up for his lack of size.

Stan Jones — Offensive Lineman
Born: 11/24/1931
Died: 5/21/2010
Played for Team: 1954 to 1965
Stan Jones was one of the first NFL players to use a weight-training program to build his strength and flexibility. During the 1950s, he was one of the top blockers in all of football. In 1962, Jones played on offense and defense for the Bears because of injuries to other players. He was elected to the Hall of Fame in 1991.

Doug Atkins — Defensive Lineman
Born: 5/8/1930
Played for Team: 1955 to 1966
At 6′ 8″, Doug Atkins was one of the tallest players in the NFL in the 1950s and 1960s. In college, Atkins played football and basketball, and was a high-jumper on the track team. He was great at rushing the quarterback and also batting down passes. Atkins's favorite move was to shove a blocker into the quarterback just as he was throwing a pass.

Richard Dent — Defensive Lineman
Born: 12/13/1960
Played for Team: 1983 to 1993
Richard Dent was the top pass rusher on the great Chicago defenses of the 1980s. During the Bears' run to the championship, Dent sacked the quarterback four times and caused two fumbles in a playoff game against the New York Giants, and forced two more fumbles against the New England Patriots in Super Bowl XX. He was named MVP of the game.
DOUBLE TROUBLE
George Halas is remembered as a great coach, but sports fans in the 1920s remembered him as a great two-sport athlete. In 1919, he led his team to victory in the Rose Bowl by scoring both touchdowns in a 17–0 victory. One TD came on a pass, and the other was a 77-yard interception return. Later that year, Halas played a dozen games in the outfield for the New York Yankees.

RUNNING LOW
Near the end of the 1940 championship game, the Bears had kicked so many extra points that officials were afraid they would run out of footballs. After their final two touchdowns, Chicago agreed to try for two-point conversions instead of making more one-point kicks. They made one and won the game 73–0.

PACKAGE DEAL
After the Bears won the Super Bowl in 1986, everyone fell in love with rookie William "The Refrigerator" Perry. That year Hasbro came out with a special action figure of "The Fridge."
RUSHING YARDS
1934 — Beattie Feathers — 1,004
1939 — Bill Osmanski — 699
1956 — Rick Casares — 1,126
1966 — Gale Sayers — 1,231
1969 — Gale Sayers — 1,032
1977 — Walter Payton — 1,852

RECEIVING YARDS
1964 — Johnny Morris — 1,200

PASSING YARDS
1943 — Sid Luckman — 2,194

1945 — Sid Luckman — 1,727


RUSHING TDs
1932 — Bronko Nagurski — 4
1934 — Beattie Feathers — 8 (tied for NFL lead)
1941 — Hugh Gallarneau — 8
1942 — Gary Famiglietti — 8
1950 — Johnny Lujack — 11
1956 — Rick Cesares — 12
1977 — Walter Payton — 14

RECEIVING TDs
1933 — Bill Karr — 3 (tied for NFL lead)
1933 — Luke Johnsos — 3 (tied for NFL lead)
1934 — Bill Hewitt — 5
1935 — Bill Karr — 6 (tied for NFL lead)
1947 — Ken Kavanaugh — 13
1954 — Harlon Hill — 12
1955 — Harlon Hill — 9
1964 — Johnny Morris — 10 (tied for NFL lead)
1970 — Dick Gordon — 13

PASSING TDs
1937 — Bernie Masterson — 9
1943 — Sid Luckman — 28
1946 — Sid Luckman — 17 (tied for NFL lead)

POINTS
1934 — Jack Manders — 69
1965 — Gale Sayers — 132
1985 — Kevin Butler — 144

INTERCEPTIONS
1942 — Bulldog Turner — 8
1963 — Rosey Taylor — 9 (tied for NFL lead)
1990 — Mark Carrier — 10
2012 — Tim Jennings — 9
2018 — Kyle Fuller — 7 (tied with 2 others)

SACKS
1985 — Richard Dent — 17
Playing for the Championship
| SEASON | GAME | OPPONENT | SCORE |
| --- | --- | --- | --- |
| 1933 | NFL Championship | New York Giants | Won 23–21 |
| 1934 | NFL Championship | New York Giants | Lost 30–13 |
| 1937 | NFL Championship | Washington Redskins | Lost 28–21 |
| 1940 | NFL Championship | Washington Redskins | Won 73–0 |
| 1941 | NFL Championship | New York Giants | Won 37–9 |
| 1942 | NFL Championship | Washington Redskins | Lost 14–6 |
| 1943 | NFL Championship | Washington Redskins | Won 41–21 |
| 1946 | NFL Championship | New York Giants | Won 24–14 |
| 1956 | NFL Championship | New York Giants | Lost 47–7 |
| 1963 | NFL Championship | New York Giants | Won 14–10 |
| 1984 | NFC Championship | San Francisco 49ers | Lost 23–0 |
| 1985 | NFC Championship | Los Angeles Rams | Won 24–0 |
| 1985 | Super Bowl XX | New England Patriots | Won 46–10 |
| 1988 | NFC Championship | San Francisco 49ers | Lost 28–3 |
| 2006 | NFC Championship | New Orleans Saints | Won 39–14 |
| 2006 | Super Bowl XLI | Indianapolis Colts | Lost 29–17 |
| 2010 | NFC Championship | Green Bay Packers | Lost 21–14 |