What's new with the Denver Broncos? That's what this page is all about.
The Team Spirit OVERTIME website begins where the Team Spirit books end.
That's because football never stands still … And I can never squeeze everything I want into 48 pages!
Scroll down for team updates, player profiles, and stats you won't find in the book. Click on the videos to the left to hear me talk about Team Spirit OVERTIME as well as my favorite players. And take a look below at some of the Broncos collectibles I have in my home—pretty cool, right?
Enjoy this site, check back whenever you like, and contact me with any questions or comments.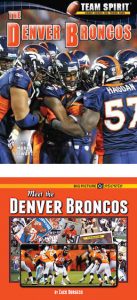 Updates
2022 Season
2022 Season Roundup: A mid-season slump that saw Denver lost 9 of 10 games: including three in overtime: made a playoff run impossible. The problem was not the defense. It was one of the best in the AFC, led by All-Pro Patrick Surtain II, Alex Singleton, Josey Jewell, and Justin Simmons, who tied for the league lead with 6 interceptions. The offense just could not seem to get in gear, despite having Russell Wilson at quarterback. That was a shame, because the Broncos held opponents to fewer that 20 points 10 times during the 2022 season.
2022 Season Preview: Many experts expect three teams from the AFC West to make the playoffs. If that is the case, the Broncos should be one of the three. Quarterback Russell Wilson begins his first season in Denver and when he's not throwing the ball, he'll be handing it off to Javonte Williams. The big story in Denver will probably be the defense. All of the key players are healthy and it could turn out to be the best in the AFC.
2021 Season
2021 Season Roundup: After a 3–0 start, the Broncos played well one week and poorly the next the rest of the way. They finished at the bottom of the super-tough AFC West with a 7–10 record. Denver had a solid running game led by Melvin Gordon and rookie Javonte Williams, while QB Teddy Bridgewater was pretty good when healthy. The defense was excellent most weeks, holding opponents under 20 points 10 times.
2021 Season Preview: The Broncos beefed up their pass defense after the 2020 season with an eye on stopping the Chiefs' aerial attack in 2021. The next piece of business is to settle on a quarterback. Teddy Bridgewater has enjoyed success in the past, but Denver has also invested time and money in Drew Lock, who will probably begin the year on the bench. Melvin Gordon and Javonte Williams will compete for carries in the backfield, while young tight end Noah Fant should top 50 catches again. Experts believe Von Miller can lead the Denver D back toward the top of the NFL rankings, but wonder if the Broncos can score enough points to challenge the Chiefs for first place in the AFC West.
2020 Season
2020 Season Roundup: The Broncos scored more than 100 points fewer than they allowed and were lucky to finish 5–11. Running back Melvin Jenkins was Denver best weapon, with 986 rushing yards, 32 pass receptions, and 10 touchdowns. Bradley Chubb, Malik Redd, and Justin Simmons were the standouts on defense.
2020 Season Roundup: The Broncos begin the year as a middle-of-the-pack team but, with so many good young players, that could change quickly. Veterans Von Miller and Justin Simmons lead a great defense, while Drew Lock begins his first full season as a starting quarterback. If they can survive a tough schedule the first two months, the Broncos could make their first trip to the playoffs since their Super Bowl victory in 2015.
2019 Season
2019 Season Roundup: Season-ending injuries to key players Bradley Chubb and Ja'Wuan James made it tough for the Broncos to compete in the AFC West—especially after starting the year 0­–4. They finished 7–9, with four of those losses coming in the final 30 seconds of the fourth quarter. Phillip Lindsay rushed for over 1,000 yards and Courtland Sutton topped 1,000 receiving yards.
December 8, 2019: Rookie Drew Lock threw for 309 yards and 3 touchdowns in a win over the Texans in Houston. It was the first time in history a player threw for 300 yards and 3 touchdowns in his first road start. Lock's teammates dubbed him "Buzz Lightyear" because of the huge wristband he wears.
September 29, 2019: Von Miller sacked the quarterback twice in a loss to the Jaguars to reach 100 sacks for his career in his 124th game. Only three players have reached 100 sacks faster.
2019 Season Preview: Denver found the free agents and draft picks it needed to fill holes in 2019, including veteran passer Joe Flacco. He'll have lots of help from the Broncos running backs, including last year's rookie stars, Royce Freeman and Phillip Lindsay. There are some questions at receiver, but little to worry about of the defensive side of the ball with new coach Vic Fangio calling the shots. Von Miller and Bradley Chubb will try to repeat their (combined) 30-sack season in 2019.
2018 Season
2018 Season Roundup: The Broncos improved their record but still had a losing season. Denver was 6–6 and in the playoff picture in early December, but dropped its final four games. Case Keenum threw for more than 3,500 yards and Phillip Lindsey topped 1,000 rushing yards in his rookie year, but the offense was inconsistent. That was too bad, because the defense—led by Von Miller and Bradley Chubb—was sensational at times.
2018 Season Preview: Quarterback Case Keenum—who guided the Vikings in 2017 to within a win of the Super Bowl—will call plays for an offense that seems to have taken a step backward in recent years. There is talent on the line and in the backfield, and receiver Demaryius Thomas is a valuable weapon. But Denver doesn't figure to put a ton of points on the scoreboard. The defense will be the difference-maker, thanks to by Von Miller and Chris Harris.
2017 Season
2017 Season Roundup: After starting the season on fire, the Broncos won just two of their final 12 games to finish last in the AFC West. The offensive stars were running back C.J. Anderson and Demaryius Thomas, but poor play from the Denver quarterbacks and a so-so defense doomed the team to a 5–11 record.
2017 Season Preview: A leaky offensive line kept the Broncos out of the playoffs in 2016. New coach Vance Joseph has fixed that problem in 2017.  No one is happier about this than free agent Jamaal Charles, who hopes to run wild behind his new blockers. The Denver defense should be good as always, with Von Miller leading the charge.
2016 Season
2016 Season Roundup: Trevor Siemian took over as quarterback after the retirement of Peyton Manning, and the team looked good in winning its first four games. The Broncos struggled the rest of the way, however, and missed the playoffs at 9–7. Demaryius Thomas and Emmanuel Sanders caught 169 passes together, but only scored 10 touchdowns. Von Miller and Aqib Talib were the leaders of one of the league's toughest defenses.
2016 Season Preview: Denver looks to win with its 2015 recipe for success with one major difference—Peyton Manning is retired and Trevor Siemian is now calling the signals. That shouldn't be a problem if the Denver defense continues to play well and receivers Demaryius Thomas and Emmanuel Sanders continue to torch enemy defenses. While linebacker Von Miller gets most of the attention, it is the team's pass defense that makes the Broncos so hard to beat.
2015 Season
September 17, 2015: Peyton Manning became the second quarterback to pass for 70,000 yards in a win over the Chiefs.
2015 Season Preview: Will this be the year Peyton Manning begins to show his age? The Broncos have beefed up their running game to take the pressure off their 39-year-old quarterback. Pass rushers Von Miller and DeMarcus Ware lead an aggressive defense.
2014 Season
November 9, 2014: Julius Thomas caught two TD passes against the Raiders to give him 12 for the season. He became the first tight end in history with back-to-back seasons of 12 or more touchdown catches.
October 19, 2014: Peyton Manning became the all-time leader in touchdown passes when he connected with Demaryius Thomas in a game against the 49ers. Manning surpassed Brett Favre, who retired with 508 scoring tosses.
September 7, 2014: When the Broncos defeated the Colts, Peyton Manning became only the second quarterback to have beaten all32 NFL teams. The other is Brett Favre. Two weeks later he threw his 100th TD pass as a Bronco in just his 35th game with the team.
September 2, 2014: The Broncos reached the Super Bowl without their best defensive player, Von Miller. He's back in 2014, along with free agent star DeMarcus Ware. The team's pass defense is also improved. If Peyton Manning can continue outing up eye-popping numbers, Denver will be the team to beat in the AFC this season.
2013 Season
December 29, 2013: The Broncos finished the year with 606 points to set a new league record. No team had ever scored 600 points before.
December 22, 2013: Peyton Manning broke Tom Brady's record for touchdown passes in a season with his 51st of the year in a victory over the Houston Texans. Manning would finish the regular season with 55 TDs, and also set a new record for passing yards with 5,477. He was named Sports Illustrated's Sportsman of the Year for 2013.
December 8, 2013: Matt Prater booted a 64-yard field goal to set a new NFL record. The old record of 63 yards was shared by three players, including former Bronco Jason Elam.
September 29, 2013: Peyton Manning broke a record he shared with Brett Favre when he threw for four touchdowns in a 52–20 win over the Eagles. It was the 24th time in his career Manning had thrown for four or more TDs. He also became the second quarterback to throw for 450 career touchdowns during the game. Two weeks earlier, Manning became the third quarterback in the 60,000 Yard Club.
September 5, 2013: Peyton Manning tossed seven touchdown passes in the season opener against the Baltimore Ravens. Only six other quarterbacks have thrown for seven TDs, and Manning was the first to do so since 1969.
September 4, 2013: Heading into 2013, Denver has no obvious weaknesses. Plus, to a man, the Broncos believe that they should have been playing in the Super Bowl last February, not the Ravens. That makes for a dangerous combination. Peyton Manning seems better than ever, and now he has Wes Welker as a new target. The Broncos' pass defenders let them down in the playoffs, but it is probably the strongest part of the defense this season.
2012 Roundup
ebruary 2, 2013: Peyton Manning was named NFL Comeback Player of the Year. In his first season with the Broncos, he led the team to 13 wins and the best record in the AFC. The team's Super Bowl dreams were dashed when the defense allowed a game-tying touchdown late in their playoff meeting with the Ravens. Baltimore won the game in overtime with a field goal—and went on to become NFL champions.
September 9, 2012: Quarterback Peyton Manning became the third quarterback in pro football history with 400 touchdown passes when he threw for two scores in victory over the Pittsburgh Steelers.
Summer, 2012: The big story in the AFC this season is Peyton Manning switching uniforms and joining the Broncos. Can he return to full health? Are the Broncos ready to play a very tough schedule in 2012? All eyes will be on Denver this fall.
Al Denson — Tight End/Receiver
Born: 1/2/1942
Played for Team: 1964 to 1970
At a time when most tight ends were thought of as blockers, Al Denson became a threat as a receiver. When Denson was matched up with a linebacker, he used his speed to catch passes down the field. Denson had his best year in 1967 when he averaged nearly 20 yards per catch and scored 11 touchdowns.

Rick Upchurch — Receiver
Born: 5/20/1952
Played for Team: 1975 to 1983
Few players in NFL history were as fast or elusive as Rick Upchurch. He was at his best for Broncos returning punts and kickoffs. Upchurch was a threat to go all the way whenever he got his hands on the ball. During his career, he brought back eight punts for touchdowns.

Steve Watson — Receiver
Born: 5/28/1957
Played for Team: 1979 to 1987
No team drafted Steve Watson out of college. He used that disappointment as motivation to become a star. After two seasons on the bench for the Broncos, Watson made the Pro Bowl in 1981, when he averaged more than 20 yards per catch and scored a 95-yard touchdown.

Craig Morton — Quarterback
Born: 2/5/1943
Played for Team: 1977 to 1982
Craig Morton joined the Broncos late in his career when the team needed a veteran quarterback to lead the offense. In his first year in Denver, he guided the Broncos to their first AFC championship. At the end of that season, Morton was voted the NFL Comeback Player of the Year for his great performance.

Rulon Jones — Defensive Lineman
Born: 3/25/1958
Played for Team: 1980 to 1988
Rulon Jones was a tall and athletic defender who struck fear into opposing quarterbacks. From 1984 to 1986, he had a total of 34.5 sacks. Denver fans loved him because he always hustled and never gave up on a play.

Steve Atwater — Safety
Born: 10/28/1966
Played for Team: 1989 to 1998
Steve Atwater roamed the field like an extra linebacker for the Broncos. No defensive back tackled harder than he did. Atwater was selected to play in the Pro Bowl seven seasons in a row.
MAGIC NUMBER
From 1996 to 1998, the Broncos won 46 games. No team had ever won that often in a three-year span.

TOP GUN
Being the #1 pick in the NFL draft does not guarantee success, especially for quarterbacks. John Elway is one of just three passers to make it to the Pro Football Hall of Fame after being selected first in the draft. The first two were Terry Bradshaw and Troy Aikman.

BIG FOUR
In 1967, the NFL and AFL put aside their differences and agreed to hold a "common draft." Floyd Little was selected sixth, by the Broncos, and was one of four players in the first round to make it to the Hall of Fame.
RUSHING YARDS
1971 — Floyd Little — 1,133
1974 — Otis Armstrong — 1,407
1998 — Terrell Davis — 2,008

RECEIVING YARDS
2010 — Brandon Lloyd — 1,448

PASSING YARDS
1960 — Frank Tripucka — 3,038 (AFL)
1962 — Frank Tripucka — 2,917 (AFL)
1993 — John Elway — 4,030
2013 — Peyton Manning — 5,477

RUSHING TDs
1965 — Cookie Gilchrist — 6 (tied for AFL lead)

RECEIVING TDs
1967 — Al Denson — 11 (tied for AFL lead)
1981 — Steve Watson — 13 (tied for NFL lead)

PASSING TDs
2013 — Peyton Manning — 55

POINTS
1960 — Gene Mingo — 123 (AFL)

1962 — Gene Mingo — 137 (AFL)

INTERCEPTIONS
1960 — Goose Gonsoulin — 11 (AFL)
1996 — Tyrone Braxton — 9 (tied for NFL lead)
2006 — Champ Bailey — 10 (tied for NFL lead)
2022 – Justin Simmons – 6

SACKS
2009 — Elvis Dumervil — 17
Playing for the Championship
SEASON
GAME
OPPONENT
SCORE

1977

AFC Championship

Oakland Raiders

Won 20–17

1977

Super Bowl XII

Dallas Cowboys

Lost 27–10

1986

AFC Championship

Cleveland Browns

Won 23–20 (OT)

1986

Super Bowl XXI

New York Giants

Lost 39–20

1987

AFC Championship

Cleveland Browns

Won

 38–33

1987

Super Bowl XXII

Washington Redskins

Lost 42–10

1989

AFC Championship

Cleveland Browns

Won 37–21

1989

Super Bowl XXIV

San Francisco 49ers

Lost 55–10

1991

AFC Championship

Buffalo Bills

Lost 10–7

1997

AFC Championship

Pittsburgh Steelers

Won 24–21

1997

Super Bowl XXXII

Green Bay Packers

Won 31–24

1998

AFC Championship

New York Jets

Won 23–10

1998

Super Bowl XXXIII

Atlanta Falcons

Won 34–19

2005

AFC Championship

Pittsburgh Steelers

Lost 34–17

2015

AFC Championship

New England Patriots

Won 20–18

2015

Super Bowl LI

Carolina Panthers

Won 24–10