What's new with the New York Giants? That's what this page is all about.
The Team Spirit OVERTIME website begins where the Team Spirit books end.
That's because football never stands still … And I can never squeeze everything I want into 48 pages!
Scroll down for team updates, player profiles, and stats you won't find in the book. Click on the videos to the left to hear me talk about Team Spirit OVERTIME as well as my favorite players. And take a look below at some of the Giants collectibles I have in my home—pretty cool, right?
Enjoy this site, check back whenever you like, and contact me with any questions or comments.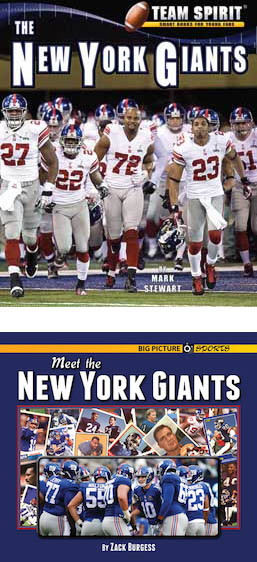 Updates
2022 Season
2022 Season Roundup: The Giants went 9–7–1 and scored their first playoff win in 10 years when they upset the Minnesota Vikings in the Wild Card Game. Quarterback Daniel Jones used his arm and his legs to power the New York offense, with help from Saquon Barkley, who ran for 1,312 yards and 10 touchdowns. Jones did not have any star receivers, but several young players came through late in the year. The defense was led by All-Pro lineman Dexter Lawrence and safety Julian Love. The team's season ended with a playoff loss to the powerhouse Philadelphia Eagles.
October 23, 2022: Quarterback Daniel Jones was named NFC Offensive Player of the Week after throwing for more than 200 yards and running for over 100 in a win over the Jaguars. The last time a Giants QB ran for 100 yards was in 1946.
2022 Season Preview: "Big Blue" fans hope that new coach Brian Daboll can do for quarterback Daniel Jones what he did for Josh Allen in Buffalo. They also hope that running back Saquon Barkley can stay healthy all year. The team signed receiver Kenny Golladay to a big contract hoping for a huge season. If all three things happen—and New York's young defense plays to its potential—the Giants hope to have a winning season.
2021 Season
2021 Season Roundup: The Giants took a major step backwards in 2021, losing their final six games to finish 4–13. High hopes for receivers Kenny Golladay and Kadarius Toney went unmet as neither player scored a single touchdown. Add to that a neck injury to QB Daniel Jones and an ankle injury to Saquon Barkley, and it explains why the Giants had one of the worst offenses in football.
October 6, 2021: Daniel Jones was named NFC Player of the Week after passing for a career-best 402 yards in a win over the Saints. It marked the second time in his career he won the award.
2021 Season Preview: Better blocking and a return to health of Saquon Barkley could not only improve quarterback Daniel Jones's chances to guide the Giants to a winning season—it could produce a division title. Big Blue's quick and exciting pass defense should get better as the playoffs draw near. The question is, will the Giants be there when the postseason begins?
2020 Season
2020 Season Roundup: After losing their first five games, the Giants went 6–5 the rest of the way to give fans hope for 2021. Quarterback Daniel Jones looked good in wins over the Eagles and Cowboys and tight end Evan Engram had a Pro Bowl season. New York's defense was excellent at times, led by lineman Leonard Williams and cornerback James Bradberry.
2020 Season Preview: Quarterback David Jones and running back Saquon Barkley will lead the Giants into battle for new coach Joe Judge. The team is rebuilding and competing at the same time, which doesn't always go well. But if the offensive line holds together and the defense can stop the run, New York could be part of the playoff picture in the final weeks of 2020.
2019 Season
2019 Season Roundup: The big news in New York was Eli Manning giving way to young Daniel Jones at quarterback in the season's first month. Jones looked great at times, but the rest of the offense struggled and the defense was one of the league's worst. Running back Saquon Barkley played hurt much of the season, and the Giants finished 4–12.
September 22, 2019: After trailing 28–10 at halftime, rookie Daniel Jones led the Giants to a 32–31 victory over the Buccaneers. It was the second-largest comeback in NFL history by a quarterback making his first start.
2019 Season Preview: Some fans are still scratching their heads over the pick of quarterback Daniel Jones in the first round. The team's defense needed more help than it got in the draft. The offense—starring Eli Manning and Saquon Barkley—should be better with a healthy blocking line, but the defense remains a huge question mark.
2018 Season
2018 Season Roundup: The big story for the Giants in 2018 was the play of Saquon Barkley, who set team record for rookies with 1,307 rushing yards and 13 rushing touchdowns. He also set an NFL record for rookie running backs with 88 pass receptions. An injury to Odell Beckham and poor protection for quarterback Eli Manning kept the Giants from scoring as well as they should. They started the year 1–7 and finished with three losses in a row. Defensive backs Landon Collins and Janorus Jenkins were among the few bright spots on defense.
November 18, 2018: Rookie Saquon Barkley ran for 142 yards and scored three touchdowns in 38–35 win over the Buccaneers. Barkley was named NFC Offensive Player of the Week.
2018 Season Preview: Eli Manning is back for another season and the Giants have built a very good team around him. They will be better in pass protection and pass catching, while rookie running back Saquon Barkley is the best backfield partner Manning has had since Tiki Barber. The team's defense depends on shutting down the run and controlling opposing passing attacks.
2017 Season
2017 Season Roundup: On paper, the Giants looked as good as any team in the NFC. But their receivers could not stay healthy and their running backs could not carry the load by themselves. That left Eli Manning without many options, and the Giants struggled to score. The defense gave up too many big plays and the result was a 3–13 record.
November 5, 2017: Eli Manning became the fifth quarterback in history to pass for 50,000 yards.
September 24, 2017: Odell Beckham Jr. caught his 300th pass in his 45th NFL game, becoming the fastest ever to reach 300 receptions.
2017 Season Preview: Eli Manning could throw for 5,000 yards if Odell Beckham and newcomer Brandon Marshall play injury-free. With a rock-solid defense, the only thing keeping the Giants from being a Super Bowl favorite is their so-so running game.
2016 Season
2016 Season Roundup: The team's investment in defensive players paid off, as the Giants held opponents to 20 points or less in nine of their 11 victories. Damon Harrison and Landon Collins had breakout years on defense, and Jason Pierre-Paul finally returned to full strength. New York's running game was its big weakness, and it caught up with the club in the playoffs when they lost to the Packers in the opening round.
2016 Season Preview: With a new head coach and new talent on defense, the Giants are the favorites to win their division. Eli Manning leads an offense that features three strong receivers—Odell Beckham, Victor Cruz and Sterling Shepard. The defense has nowhere to go but up after a terrible 2015.
2015 Season
2015 Season Preview: The Giants have a glamorous offense led by Eli Manning and receivers Odell Beckham and Victor Cruz. But defense wins games in the NFL, and the New York D is not what it used to be. A fireworks accident knocked Jason Pierre-Pau out for the season and there is no one to take his place.
2014 Season
January 31, 2015: Odell Beckham Jr. was named Offensive Rookie of the Year.
September 1, 2014: The Giants have a new offense built around Eli Manning's quick decision-making and accurate throws. With help from newcomer Rashad Jennings at running back, Manning should have a balanced squad to work with. On defense, the Giants needed help at defensive back and got it with the additions of cornerbacks Walter Thurmond and Dominique Ridgers-Cromartie.
2013 Season
September 4, 2013: If David Wilson steps up and becomes a force at running back, the Giants could have the most explosive offense in the NFC. Eli Manning and his receivers already make up one of football's finest passing attacks. New York's defensive line also ranks among the best in the business. If the linebackers and defensive backs play to their potential, the Giants could be looking at a return trip to the Super Bowl.
2012 Roundup
February 2, 2013: Three December losses cost the Giants a spot in the playoffs. They finished 9–7 for the second year in a row, but this time had no chance to defend their championship. Victor Cruz and Eli Manning had Pro Bowl seasons, but the defense came up short in key situations.
Summer, 2012: The Giants actually look stronger at the beginning of 2012 than they did at the end of their amazing Super Bowl victory. Can they win another championship? Only one team in the last 20 years has done it. Eli Manning and Big Blue will give it their best shot.
Ward Cuff — Running Back
Born: 8/12/1913
Died: 12/24/2002
Played for Team: 1937 to 1945
In the days when star players were asked to do a little of everything, Ward Cuff did everything well. He was a top runner and kicker, and a good defensive player, too. Cuff helped the Giants win the championship in 1938 and was an All-Star each year from 1939 to 1941.

Emlen Tunnell — Defensive Back
Born: 3/29/1925
Died: 7/22/1975
Played for Team: 1948 to 1958
During the 1950s, the passing game became an important weapon for NFL teams. Emlen Tunnell was the league's best at defending against the pass. He finished his career with 79 interceptions—a record at the time—and was the first African-Amercian player elected to the Pro Football Hall of Fame.

Roosevelt Brown — Offensive Lineman
Born: 10/20/1932
Died: 6/9/2004
Played for Team: 1953 to 1965
"Rosey" Brown was one of the NFL's biggest linemen, but also one of the quickest. He was a tremendous blocker on running plays, and he also took great pride in keeping his quarterbacks safe. Brown was picked to play in the Pro Bowl nine times from 1955 to 1965.

Andy Robustelli— Defensive Lineman
Born: 12/6/1925
Died:5/31/2011
Played for Team: 1956 to 1964
When Andy Robustelli joined the Giants in 1956, he was the final piece in their defensive puzzle. The team won the NFL title that year and went on to play in five more championship games during his career. Robustelli used his quickness and intelligence to become a great pass-rusher, even though most blockers outweighed him by 50 pounds or more. In 1962, he won the Bert Bell Award as the NFL's top player.

Joe Morris — Running Back
Born: 9/15/1960
Played for Team: 1982 to 1988
Joe Morris proved that bigger isn't necessarily better in pro football. He led the league in touchdowns in 1985 and ran for over 300 yards in the postseason the year the Giants won the Super Bowl. Morris eventually passed Alex Webster as the team's all-time rushing leader.Rodney Hampton and Tiki Barber eventually surpassed him.

Mark Bavaro — Tight End
Born: 4/23/1963
Played for Team: 1985 to 1990
Few tight ends combined toughness and talent the way Mark Bavaro did. He loved to hit and get hit so much that teammates started calling him "Rambo." He set a team record with 12 catches in a game as a rookie in 1985 and was picked to play in the Pro Bowl in 1986 and 1987. Bavaro's most famous moment came after a catch against the San Francisco 49ers in 1986. It took seven tacklers to drag him to the ground.

Victor Cruz — Receiver
Born: 11/11/1986
First Year with Team: 2010
Victor Cruz was almost cut from the Giants in 2010, but he survived to become one of their best players in 2011. He caught 82 passes and set a team record with 1,536 yards on the way to a championship season. Cruz celebrated his touchdowns with a Salsa dance.
CHANGE OF ADDRESS
From 1973 to 1976, the Giants had four different home fields: Yankee Stadium, the Yale Bowl, Shea Stadium, and Giants Stadium.

NO RESPECT
One of the team's best players in the 1970s was Bob Tucker. He caught more passes in the 1970s than any other tight end in the NFL—but he never made the Pro Bowl!

YARD WORK
Beginning in their first season, the Giants led the NFL in yards gained seven years in a row.
RUSHING YARDS
1936 — Tuffy Leemans — 830
1943 — Bill Paschal — 572
1944 — Bill Paschal — 737
1951 — Eddie Price — 971

RECEIVING YARDS
1932 — Ray Flaherty — 350

PASSING YARDS
1933 — Harry Newman — 973
1935 — Ed Danowski — 794

RUSHING TDs
1943 — Bill Paschal — 10
1944 — Bill Paschal — 9
1985 — Joe Morris — 21

RECEIVING TDs
1932 — Ray Flaherty — 5
1933 — Dale Burnett — 3 (tied for NFL lead)
1933 — Kink Richards — 3 (tied for NFL lead)
1945 — Frank Liebel — 10
1967 — Homer Jones — 13

PASSING TDs
1933 — Harry Newman — 11
1935 — Ed Danowski — 10
1962 — Y.A. Tittle — 33
1963 — Y.A. Tittle — 36

POINTS
1933 — Ken Strong — 64 (tied for NFL lead)
1949 — Gene Roberts — 102 (tied for NFL lead)
1963 — Don Chandler — 106


INTERCEPTIONS
1944 — Howie Livingston — 9
1947 — Frank Reagan — 10 (tied for NFL lead)
1951 — Otto Schnellbacher — 11
1958 — Jimmy Patton — 11
1961 — Dick Lynch — 9
1963 — Dick Lynch — 9 (tied for NFL lead)
1968 — Willie Williams — 10

SACKS
1986 — Lawrence Taylor — 20.5
2001 — Michael Strahan — 22.5
2003 — Michael Strahan — 18.5
Playing for the Championship
| SEASON | GAME | OPPONENT | SCORE |
| --- | --- | --- | --- |
| 1933 | NFL Championship | Chicago Bears | Lost 23–21 |
| 1934 | NFL Championship | Chicago Bears | Won 30–13 |
| 1935 | NFL Championship | Detroit Lions | Lost 26–7 |
| 1938 | NFL Championship | Green Bay Packers | Won 23–17 |
| 1939 | NFL Championship | Green Bay Packers | Lost 27–0 |
| 1941 | NFL Championship | Chicago Bears | Lost 37–9 |
| 1944 | NFL Championship | Green Bay Packers | Lost 14–7 |
| 1946 | NFL Championship | Chicago Bears | Lost 24–14 |
| 1956 | NFL Championship | Chicago Bears | Won 47–7 |
| 1958 | NFL Championship | Baltimore Colts | Lost 23–17 (OT) |
| 1959 | NFL Championship | Baltimore Colts | Lost 31–16 |
| 1961 | NFL Championship | Green Bay Packers | Lost 37–0 |
| 1962 | NFL Championship | Green Bay Packers | Lost 16–7 |
| 1963 | NFL Championship | Chicago Bears | Lost 14–10 |
| 1986 | NFC Championship | Washington Redskins | Won  17–0 |
| 1986 | Super Bowl XXI | Denver Broncos | Won 39–20 |
| 1990 | NFC Championship | San Francisco 49ers | Won 15–13 |
| 1990 | Super Bowl XXV | Buffalo Bills | Won 20–19 |
| 2000 | NFC Championship | Minnesota Vikings | Won 41–0 |
| 2000 | Super Bowl XXXV | Baltimore Ravens | Lost 34–7 |
| 2007 | NFC Championship | Green Bay Packers | Won 23–20 (OT) |
| 2007 | Super Bowl XLII | New England Patriots | Won 17–14 |
| 2011 | NFC Championship | San Francisco 49ers | Won 20–17 (OT) |
| 2011 | Super Bowl XLVI | New England Patriots | Won 21–17 |